25 Weeks
It's Labor Day weekend and we are enjoying a kicked-back weekend at home. It seems like the rest of September is going to be really busy so we're taking advantage of relaxing while we can.
We abandoned the idea of working on the basement this weekend and decided to begin looking at baby stuff. We bought our stroller on Friday and we love it! It is so cool and light – huge fan! We've also been reading through the Baby Bargains book to see which brand of car seat, pak-n-play, crib, etc, we want to get. After touring Tim through Toys-R-Us/Babies-R-Us, Target, and USA Baby, we've decided to pretty much register everywhere. Reason: each place has a little bit of what we want but not one place carries it all. So today we're going to begin the registering process. We'll register for the basic stuff (bottles, sheets) at Target & Babies-R-Us and we'll register for the car seat and a few other specific items at USA Baby.
I'm still at a loss for what to do as far as decor in the room. We're not going to paint or go with a specific theme. I just wanted to find some cute blankets & curtains but everything is either baby pink, blue, yellow, or green. Not really what I'm going for.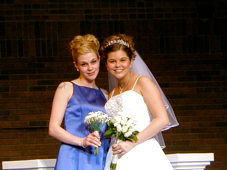 This is a picture of me and my sister. Happy birthday sister!