Happy Friday the 13th for all of you superstitious people!  I feel like I have lots to write about and have had every intention of adding entries pretty much every day this week but never got around to it.  So, I'm going to try to add it all now, but in a shortened version!
Abbi — So, she's moved on to being a self-feeder!  She prefers to just feed herself rather than have me spoon mushed up food into her mouth.  I don't blame her.  She still has a hard time actually getting most of the food into her mouth though with those chubby little fingers.  But it's pretty cute.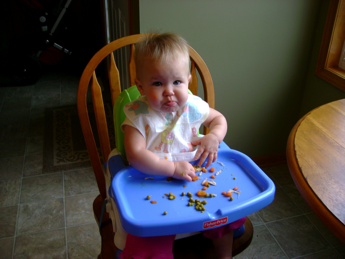 She's also getting closer and closer to having walking as her primary mode of transportation.  Within the last week she has decided that she would much rather walk from one toy to the next rather than crawling.  Of course she does this straight-legged walking thing instead of bending her knees and picking up her feet but whatever works for her.
Old Man Winter — The first signs of winter have hit the Great Lakes.  It's only the middle of October and we have seen the first snow of the season.  Granted it's just random little snow pellets here and there, nothing to cover the ground or stick, but it's COLD!  The high winds with the cold wet weather  is not all that appealing to me!  I feel like we had a total of 3 days of Fall and boom, it's winter.  Ah, the joys of living in Michigan.
Return of the DVR — I am happy to announce that our DVR box has been replaced!  We've gone all week without it because it went kaput on Sunday night.  It is amazing how much we have come to rely on that stupid little box.  We had gotten so used to pausing the TV when we had to run to the kitchen, use the bathroom, or get ready for bed.  It was odd to do all of that stuff during the commercials and rushing to get back when the show started up again.  But we got a new box today so back to our lazy, DVR-dependent lifestyle.  Yup, we are shamefully addicted to TV!
Have a great weekend all!  We'll be freezing our tucases off tomorrow as we make an appearance at the Hope homecoming football game.  I'm sure it will be a short appearance as it is only supposed to hit a high of 45 degrees!