Her Recent Likes:
Climbing up on everything.  Since her daddy taught her to climb up onto the coffee table to sit next to him (not sure why either one of them was sitting on the coffee table), she has mastered climbing up on to every piece of furniture, including the dining room chairs so she can get to my computer.

Brushing her teeth and doing her hair with daddy in the morning.

Her Blankie.

Giving kisses.

Summersaults.

Pointing out the different features on your face.

Watching Blues Clues.  LOVES Blues Clues!


Putting on her socks and shoes — even if we're not going anywhere.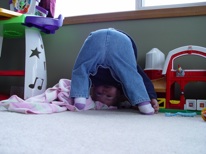 Of course she has many dislikes too and she has no problem making those known.  And
this is the look she usually gives you.  Yup, that would the furrowed brow that she gets from me.  I knew there was some part of me in this child!