Today is our Anniversary. Five years baby! Yes, I will bore you with the cliche of "on one hand it feels like forever, and on the other hand it feels like just yesterday." Lots of really good memories from our wedding and even more great memories since.
We really don't have any big plans to celebrate. The husband had flowers delivered to me yesterday. See, he doesn't really like to do things when they are expected so he chose to have them delivered to me the day before our anniversary so I wouldn't be expecting them. Really, I wasn't expecting flowers at all, so receiving them at all was great and to have them delivered the day before made them even better because that was something only the husband would do. The downfall is that I love having them in my house so much that I want live flowers all the time now! Bet he wasn't counting on that one!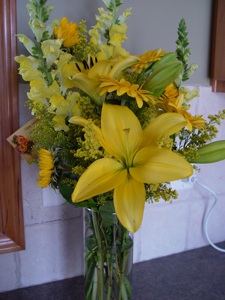 Tim, I love you! Plain and simple, I love you! Happy Anniversary!