This past weekend was the hubby's birthday. Happy Birthday Love! We really don't do much for birthdays around here. Though he did get a new iPod nano and some workout stuff about a month earlier that we deemed as his birthday gift. All around it ended up being a busy week and weekend.
Earlier in the week we had a couples baby shower for friends of ours who are expecting their first child in a few weeks. I was in charge of the cake. Normally I would run to the store the day of and pick up a cake from the bakery department. However, in an effort to be more Martha-ee, I decided to make the cake. Here was the end product: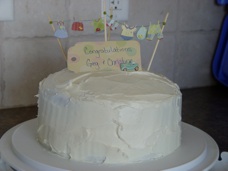 On Saturday night we had a surprise birthday party for another friend. Not only was it a surprise party, but it was a costume party. Of course I stressed about this for weeks because it's not easy to find a good costume when you're bordering between the prego/nonprego clothes. We decided to dress up like a cowboy and cowgirl and it turned out pretty well. We were comfortable but obviously dressed up. And Tim got to wear his cowboy boots and new hat (which is always exciting for him). And Tim was finally able to convince me to buy cowboy boots (which was more of a birthday gift to him than to me I think). Surprisingly enough, Paula was actually really surprised when she walked into the room. Her husband pulled it off!
Sunday morning we packed up and headed across the state to see my parents. They made us a delicious steak dinner for Tim's birthday and gave us our Christmas present early. Let's just say that you're going to be seeing some very cool new pictures on this site soon. Possibly even tomorrow, depending on how the costume & trick-or-treating goes tonight!
Happy Birthday Tim! I love you!