The nice thing about knowing that we're having another girl is that we really don't need to buy anything (aside from diapers). We have TONS of clothes, many of which Abbi did not even wear, sitting down in the basement and we have everything still left over from Abbi — bottles, car seat, etc. The only things we actually need to buy are things for Abbi eventually (the standing platform for our stroller, a big-girl bed). I'm ok with the fact that this child will exist in hand-me-downs for the first few years of life, but I do miss the whole shopping for cute new baby things and the wondering of "are we actually going to need this". Ok, actually, I miss the gifts! I love presents! So I'm thinking I may just need to buy a "hey, congrats on the new baby" gift for myself. This is what I had in mind: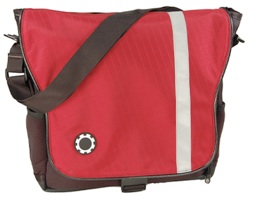 Yes, we do have a diaper bag currently, but, after two years of lugging it around, it is starting to fall apart in places. It frustrates me that it is falling apart because it really was not a cheap bag. I probably should have sent it back to the company at the first signs of wear but I was a bit sleep-deprived at the time. I showed the bag to Tim the other night and he thought it was pretty cool. One he could carry around. However, I don't think he was too excited about me buying a new diaper bag or spending that amount of money on a diaper bag. Don't blame him. I could use that money for a massage.
Aside from wanting to change diaper bags, I'm also thinking about changing the name of this site. Something a little bit more me, since this site is an extension of me. I'm thinking of using that name as my username on a few other sites/programs. There are times I wish I had kept a little more anonymity when creating this site and other profiles on web applications. I'll keep you posted as to when/if/what the change will be though, for the two of you that actually follow this blog.
Changes…..ah, pregnancy nesting at it's peak!