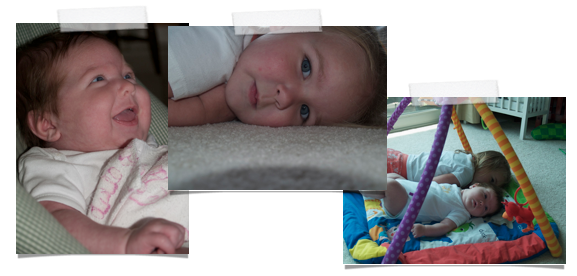 Zoe Grace ~ Oh my Zoe Girl, you are now 2 months old and it is hard for me to remember a time without you. You have nestled your way perfectly into our family and now our family is complete. You have changed so much this past month, losing your newborn look for that of a chubby-cheeked baby. You still have a lot of the hair you were born with, although it is gradually becoming lighter. I don't think you will ever be a bald baby like your sister. But you do have her same chubby little thighs!
You are slowly figuring out the whole sleeping at night thing and for that I am thankful. I think we have also figured out your congestion problems which is hopefully helping you sleep. My favorite part about this past month is that you are now smiling (beyond gas smiles) and cooing. Your daddy was right when he said that your smile lights up an entire room. I love holding you in my arms, watching you smile at me and listening to you make all sorts of noises. I love watching you smile and "talk" to your daddy. But what I love more than anything is watching you interact with your big sister. You love seeing her and listening to her voice. She receives more smiles from you than anyone else. It melts my heart to see that sisterly bond already forming.
Oh my sweet Zoe. I love you so much. I never thought it would be possible to love another baby as much as I love your sister but somehow my heart has expanded to love you both. And yet I feel so much guilt when I look at you. I still feel so guilty for not sticking with the breast feeding. I feel as though we would not be having so many struggles with your congestion, digestion and sleeping had I just nursed you. I feel guilty that you are not getting more of my attention. That you are not getting all the attention you deserve and crave because you are sharing me with another. But I think we are figuring it all out. Bear with me, we'll figure it out together.
I love you Zoe Girl!