I've given Tim plenty of warning that this was going to appear in the blog. Only because I know that, if the tables were turned, he'd do the same thing!
Last night Tim stayed home with the girls while I went to Pilates and Yoga. That meant that he would be bathing and putting both girls to bed on his own, no big deal. Well, I guess while Abbi was in the bath she wanted to use her bath crayons. Somehow she convinced her daddy to draw a picture for her and this is what he came up with: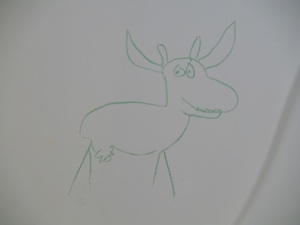 Any guesses on what it is? My first thought was that this was his attempt at drawing a bull moose. Needless to say, I felt very uncomfortable last night as this guy was staring at me while I peed. Quit staring at me!
When I asked Tim about the drawing, he informed me that it was a cow. Now I get it! That is an udder! That is an utter? And apparently Abbi wanted the cow to have teeth. To Tim's defense, he said he drew it with is right hand (he's left handed). Either way, QUIT STARING AT ME!!