I had a really great post that I was going to do this week on parenting but then I lost the desire to write it so you're getting a kid update instead. Hopefully I will feel like writing it later because I think it would actually be a good one. We'll see. On to the update.
Abbi will be turing 3 in just a few weeks. Yikes. A three year-old. I have a feeling that the next year will be a trying one for all of us. She seems to have developed this wonderful three year-old attitude that drives me nuts! Since she and I are both pretty stubborn, well, it will be interesting nonetheless.
I asked Abbi what she wanted for her birthday the other day and she happily replied, "cake and ice cream." Oh child, I will gladly make you a cake and lather it up with ice cream if that is your only request! I think we'll get her a sled as well though. She's so excited for the snow to come so she can go sledding, build snow men, and do snow angelas. Yes, I said Angelas. I told they were snow "angels" but she likes to call them snow "angelas". Whatever. You're cute.
My dear Zoe is on the move. She's doing this scoot/crawl thing and she's got it mastered. The kid moves pretty stealthily too because one minute she's in the living room and the next she's in the kitchen, all without me knowing. It's about the only time she's actually quiet. She's also popping through teeth left and right! So far she has four teeth in and three more on their way. Of course four of those seven teeth all decided to come in at once. Poor baby. Poor mommy. I'm a wimp but I'm really glad I'm not nursing right now.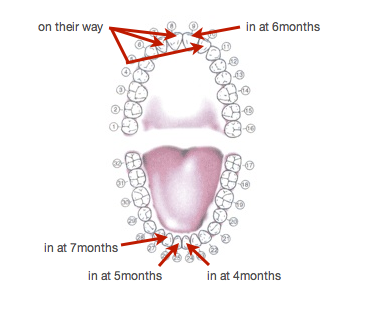 Zoe has also started making more noises than crying or gooing. I believe she said "dada" the other day or something that sounded similar. Of course she says "mama" but that is only when she's super tired and starts crying. So I'm pretty sure she's not actually wanting me, she just wants anyone who will give her a bottle and put her down for a nap.
I think that's it for the girls. Besides teeth and attitude things are pretty status quo around here. Ok, I'm off to get these darling girls some lunch and then down for a nap so I can get some painting done.