I saw this on Cool Mom Picks this morning and instantly fell in love. It is a baby monitor on your iPhone. I'm falling more in love with my iPhone every day! EVERY DAY!
I'm notorious for forgetting our monitors when we travel with the kids. We don't use them at home typically so they are just packed away in the closet. It isn't until I am putting Zoe down for a nap at someone else's house that I kick myself for forgetting them. As a result I spend the next two hours or so going back and forth between where the adult conversation is happening to the room where Zoe is sleeping to see if she is still sleeping. I've already had it where she was fussing for more time than I care to admit because I couldn't hear her fussing from the other room. Of course now I'm paranoid and, if I don't have the security of the monitors, I really don't allow myself to enjoy the time while Zoe is sleeping. Does that all make sense?
Well, CodeGoo has developed a new iPhone app that allows you to use your iPhone as a monitor. You simply place the phone in your baby's room, start the application, and, when baby makes a noise, it sends a call to whatever phone number you designate. So, you can leave your phone in the room with baby and have the call forwarded to your husband's phone. When you answer the call you can listen in to see if baby is really fussing or just made a noise and went back to sleep, allowing you to partake in another glass of eggnog.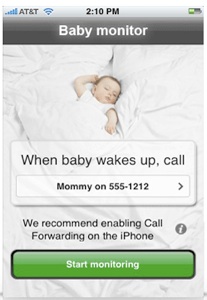 Worried that someone will call your phone while it's in the room with baby? No problem. Just forward your calls to your husband's phone as well. The downfall though…you'll have to take a break from SMS, Twitter and email. No Twitter vs. not worrying about the baby? It's a tough one.
I'm sure I'll be trying app out over the holidays. Possibly even this weekend when we head over to see my family. It's pretty much a given that I will forget the monitors yet again!
Oh, and Merry Christmas to all you iPhone app developers! I really do love you….I mean your apps!