She is a loud talking, overly excited little girl with an abnormally big head. Yes, that would be Dora the Explorer. I know, that seemed kind of harsh, but when you're subjected to watching her everyday and have a toddler who is determined to wear all things Dora, you begin to hold a grudge against the little Explorer. And really, if you have ever given birth, you know you are thinking Lord, how in the world did her mother push that big head out during birth?
That being said, I've grown to tolerate Dora. I've realized that Abbi could be obsessed with watching things that are much more annoying — hello? Yo, Gabba Gabba? What is that?
Anyhow, it looks like Miss Dora will be growing-up this Fall. She will be receiving a bit of a make-over and will finally grow into her head. The new tweenage Dora supposedly will be attending Middle School and will now reside in the Big City. She and her friends won't exactly be exploring anymore but will be solving mysteries. Here is what she will look like: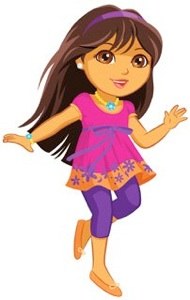 Why is Dora growing up? Mattel, the maker of Dora the Explorer, believes that, while the current Dora is great for pre-schoolers, older girls who still want to connect with Dora want a Dora more their age. So, Dora will be taking on tweenage issues and tweenage fashion.
My thoughts (you knew they were coming)? I actually like the look of the new Dora but not as Dora. I wish Mattel would have just developed a new character. Maybe Dora's older cousin? While her looks is very cute and a great option for older girls, rather than the over-sexed Bratz dolls, I'm saddened that Dora has lost her tom-boyish charm. This new Dora does not look like she is ready to go rescue Tiko from any gooey geyser any time soon.
I am glad that Mattel is developing a character for older girls and hopefully the new Dora will be a good role model in both behavior and fashion. I just wish Mattel would have left Dora as a pre-school loud-talking explorer and created a new character.
My only question for Mattel is: What is going to happen to Boots? Will he moving to the big city and sporting some new kicks? And Swiper? Can we really have a fox wearing a mask running around an urban middle school? I'm guessing that they, along with Backpack, Map, Tiko, and The Big Red Chicken, are getting left behind.
What do you think of the new tweenage Dora? Will you be tuning in this Fall?
And do you hate the word 'Tweenage' as much as I do?