Memory #27 – age 26 yrs
My 26th birthday I spent on vacation in Jackson Hole, WY with my husband and friends, Scott and Tara. Oh, and I was four months pregnant. Yes, the pregnancy stopped me from sampling the delish drinks from the local brewery but it did not stop me from hiking through the back country and coming eye to eye with a mother moose and her baby!
The story: We were hiking out in the middle of nowhere and were actually on our way back because it was beginning to get late. I in the front of our line on the trail when I stopped dead in my tracks. There, peaking through the tall weeds and trees was a moose, looking straight at me. And there, next to her, her baby. CRAP! We had been warned that moose can be quite mean, especially a mother moose who feels her baby is in danger. I swiftly turned around and warned Tara, Scott, and Tim and we began backing up as much as possible. Then we realized that we had nowhere to go. Below us was a ravine and above us was more mountain without any trails. We stood and waited for the moose to make the first move, fully knowing that my 4 month pregnant self could not outrun even a kitten at this point. Thankfully the moose opted to slowly make her way up the mountain, all the time keeping herself between us and her baby. As soon as she was up a ways, we double timed it down the trail and back to our car!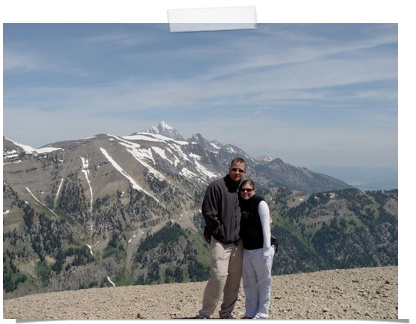 Half way through my 26th year I gave birth to Abbi. I decided while pregnant that I would stay home with the baby after she was born and not return to work. I absolutely love being home with my girls but I do miss the working world at times!