First, Don't forget to enter this week's 30 Days to 30 Giveaway! Now, on to the memories!
Memory #9 – age 8 yrs
Third grade was probably one of my favorite grades in elementary school. That could have something to do with my teacher, Mrs. Getzinger. She loved music and had a piano in her classroom so she usually ended each day with all of us singing. Now, I can't carry a tune to save my life but I do love to sing. 

This was also about the time that I first remember realizing that my parents' marriage was not a happy one. I remember telling my teacher that I thought my parents might be getting a divorce. Of course it would be years yet before that actually happened.
On a happier note, this was also when I started getting my front teeth in. Remember, I had my front teeth pulled due to lack of enamel. Now I could smile in pictures showing my teeth….although they were all crooked and awkward, not making my pictures really any better.
And now a little explanation on these pictures. This first one is a doozy! This is my third grade school picture. You just got to love the mirror shot. And then, the stylish pearls and headband….I'm such a vision!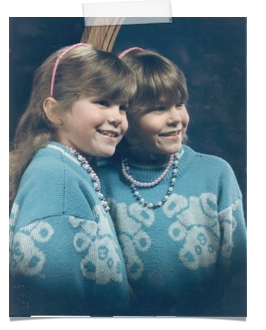 This next one I actually like. Yes, I'm sporting those same fashionable pearls but this time I'm with my favorite uncle! Uncle Bill! Unfortunately I feel like I look a lot like my father here.