THIS GIVEAWAY IS NOW CLOSED! THANKS FOR ENTERING. THE WINNER WILL BE ANNOUNCED ON THURSDAY, JUNE 18!
Bumpy Name Personalized bands have quickly become one of my favorite kids product! I've been eyeing them up for a while but it wasn't until recently that I finally ordered them. I ordered them because a girl in Abbi's gymnastics class had the same water bottle as Abbi and they were always getting their bottles mixed up. Yes, I could have just gotten Abbi a different bottle but what fun would that have been?
I ended up getting a set for both Abbi and Zoe because they are both drinking out of sippy cup/water bottles these days and, although it's fine in my eyes if they end up drinking from the same cup, Abbi tends to get a little frustrated if her little sister is seen walking around with her princess cup!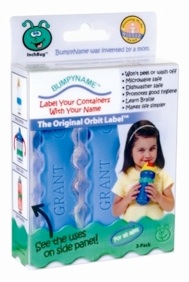 So, to keep water bottles identified when we're out and to keep peace in my house, I placed the order. And I love them! I was able to get both girls' full names printed on their bands and I let Abbi pick the colors and the little symbol for hers and for Zoe's. Abbi got pink with a star and Zoe got blue with a flower.
Each set comes with 4 bands so you can keep one in the car, one in the house, one in the diaper bag, and, well, you're bound to lose one somewhere along the way!
Once they arrived I kicked myself for not ordering a set for me! These would be so great in identifying my bottles or cups when we are at family functions this summer! Who knows, I just might end up with a set before long!
The Giveaway:
In honor of me turning 30 in a few short weeks, I am giving away one set of Bumpy Name Personalized Labels (personalized 1 line). The winner will chose the color and what they would like printed on their band.
How to Enter:
Just leave me a comment on this post telling me which color you would want, what it would say and what you would use it for. Be honest….if you're planning on using it on your adult beverage bottle, I want to know!
Contest will end at 11:59pm (EST) on June 17th. The winner will be randomly chosen and announced on June 18th.
Extra Entries:
1 extra entry if you subscribe to my feed 1 extra entry if you leave a comment telling me your favorite childhood memory (good or bad).
3 extra entries if you follow me on Twitter (@satcygirl) and tweet about this giveaway.
5 extra entries if you blog about this giveaway. Leave a comment below with the link to your post.
*I'll be checking in on the tweets and blog posts so please be honest if you leave a comment saying you did one of those!