Camping — A few weeks ago we also took our first camping trip of the year. Our camping weekend actually had a really rough start. The night before we were to leave we had a huge storm blow through. The thunder and lightning were so close and the loud that I had a frightened 3 year old in bed with me all night. It was close enough that our house actually got struck. We were fine but it took out our power and fried some of my computer equipment. So, after a night of very little sleep, a morning with no shower, and franticly trying to empty our fridge (still no power and I didn't want to come home to spoiled food), we finally got the camper packed and on our way.
Despite our rough start, our weekend actually went really well. Oh, except that we found out that our camper had taken a hit of the lightening as well and it blew out our fan/ac/heat, not good when it's 90 degrees during the day and I have kids who need to nap in that camper. So, after picking up a few fans our weekend was ready to rock.
We were camping with Tim's family and some family friends. One of the other couples actually has a daughter who is about the same age as Abbi and a son who is about a week younger than Zoe. Abbi was so excited to see Emmaline. So excited that when we got to the campground she took off to find Emmaline and, when they saw each other, they ran to each other and hugged. They ended up playing together most of the weekend and it was wonderful. I love the age that Abbi is at right now!
Abbi did the pony rides, played in the water, played at the little playground, and even took part in the turtle race! Yes, my daughter picked up a turtle without any problems at all. She even played with one of the frogs. I could not have been prouder!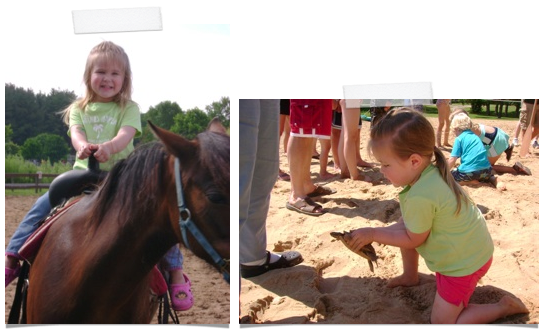 Yes, we took Zoe and Jasper with us camping as well! I guess I should write about them as well. Zoe pretty much just napped and wandered around. Her age was a bit more challenging for me because she doesn't listen very well and isn't old enough to play on her own. But she did pretty well too. Jasper (and the girls too, I guess) played so hard during the day that he was exhausted at night, which was good seeing as though we couldn't really set-up his kennel in the camper.
As fun as camping was, we were a little disappointed to be gone from home that weekend. Well, partially. We were happy to be gone since our power was out the entire weekend. I can't imagine what we would have done without power or water for an entire weekend with the girls! The disappointing part was that we had more storms go through on Friday night/Saturday. The storms caused a lot of trees to come down in the area and lots of flooding. Flooding so bad that it took out entire roads. More than a week later and some of those roads are still out.
We were fortunate enough to only lose some large branches and our power. To our amazement those branches that should have fallen on our house fell away from our house and did no damage. And we had no flooding in our basement. We heard of others who had 4+ feet of water in their basements. All week you could drive around and find people pumping water out of their house and piles and piles of damaged carpet, drywall, and furniture on the side of the road. So, as fortunate as we were (both in being out of town and having do damage done to our house) we were bummed we missed all the excitement. Here is a picture of one of the roads that was taken out because of the flooding: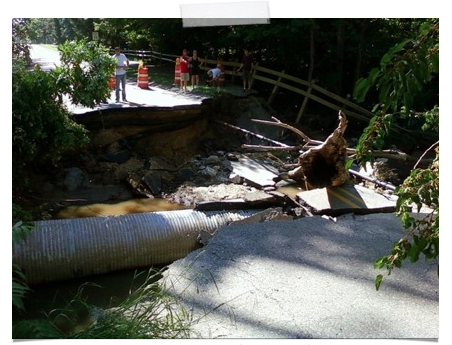 photo courtesy of Scott Follett