I've always had troubles finding earbuds that work for me. I'm not super picky but I need ones that fit my ears. Apparently I have really small ears because the ones that come with your iPod, those white ones from Apple, hurt my ears. I can honestly wear them for about 5 minutes and then my ears hurt. Bizarre, I know. So I always stole my husband's really nice earbuds whenever I wanted to listen to my iPod. He was less than thrilled about that arrangement.
Then, a few months ago I won a pair of RockBuds from ChicBuds in a bloggy giveaway. And I'm a big fan! Not only do the earbuds fit comfortably in my ears but they have this wonderful retractable feature which needs the cord nice and neat! No more wadded up cord thrown into my gym bag!
The not so great part….well, I believe the RockBuds were probably designed for their male cliental. They are black (which I like) and the design on the retractable part are a little more male, at least I think they are. They are fun though.
The ChicBuds are much more geared toward women as they are either decorated in Swarovski crystals, in a designer pattern, or limited edition design. They are so cute BUT the ear buds are the typical hard, large ones that don't sit well in my ears. Bummer! Excuse me ChicBuds, but if you happen to be reading this…..please create a set that has the cute designs of the ChicBuds but with the earbuds from the RockBuds. PLEASE!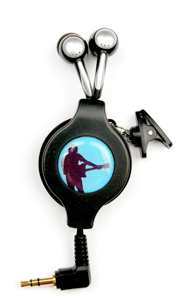 So, if I'm not 100% happy with the design of the ChicBuds, why am I writing about them and doing a give away with them????? It all comes down to customer service! When my first pair of RockBuds broke I mentioned on Twitter that they broke and that I was so bummed because I really did like them. With in an hour the owner of ChicBuds contacted me on Twitter and told me to send them in and they would replace them. All of their products are guaranteed and they want their customers to be happy! That gives them very high marks in my book!
By the way, ChicBuds has no idea I'm writing this. They did not hire me or offer me anything to do this review or giveaway. I am just a firm believer in supporting a company who values their customers.
And now on with the giveaway!
The Giveaway:
I am giving away one pair of RockBuds (the exact pair shown). These retail at $29.99.
How to Enter:
Just leave me a comment on this post telling me you want to win!
Contest will end at 11:59pm (EST) on July 2nd. The winner will be randomly chosen and announced on my birthday, July 3rd.
Extra Entries:
1 extra entry if you subscribe to my feed 1 extra entry if you leave a comment telling me your favorite childhood memory (good or bad).
3 extra entries if you follow me on Twitter (@satceygirl) and tweet about this giveaway.
5 extra entries if you blog about this giveaway. Leave a comment below with the link to your post.
*I'll be checking in on the tweets and blog posts so please be honest if you leave a comment saying you did one of those!