Last week we had Abbi's end-of-the-year Gymanstics fun meet. This is a time where all the gymnasts get together to show their friends and family all the stuff they've been working on this past year. Let me just start by saying that the meet started at 5:30, which meant we had to leave the house by a little after 5pm, which meant that we had to try to scarf down some dinner before we left. And, Abbi decided not to nap that day. And Zoe decided to go down for a late afternoon nap which I had to wake her up from. AND it was 90+ degrees that day, meaning it was 90+ degrees in the building. That's a lot of 'And's!
So the night did not go well. Abbi was overwhelmed, hot and tired so her ability to listen and follow directions was non-existent. But we survived it. I'm just so glad that the instructor is so patient with Abbi and that her daughters absolutely adore Abbi! Anyhow, she did all of her routines and is excited to start her summer session next week.
Here is a video of her performance (minus the not listening and minor temper tantrum):
Gymnastics Meet 2009 from Stacey Lynn on Vimeo.
Probably the best part of the night was before the meet started when Abbi saw that her daddy was there. She came barreling across the building screaming "My Daddy, My Daddy!" She was so excited to see him there! I think he was a bit embarrassed but I know he loved it!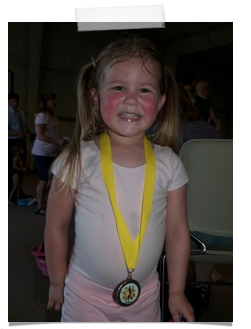 She's a little sweaty from the 90+ degree heat!