Well, look-e-here, I'm actually posting something other than a "30 Days to 30" memory! Watch out! The worst part though is that I have so much to write about because we've had a busy few weeks around here. So, here goes!
The wedding — At the end of May Tim's brother got married and both Tim and Abbi stood up in the wedding. This was Abbi's first time being at a wedding and her first time participating in a wedding. She was a flower girl with her cousin (the groom's daughter) Bethany. I was a bit worried about how Abbi would do. She is an amazingly social person (if I'm there with her) but she tends to get overwhelmed in crowds of people. I was pretty sure she would not make it down the aisle. But, like most things, she proved me wrong!
She did a fabulous job! She made it down the aisle with no problems and even sat through the ceremony (with the help of a sucker and cheerios). And she was the cutest thing ever! Oh, and she even sat still long enough to get her hair done before the wedding! She looked and acted like such a big girl that day. I was, and am still, so proud of her. Oh, and Zoe? Well, she hung out with my parents most of the time at home and made her appearance for some pictures.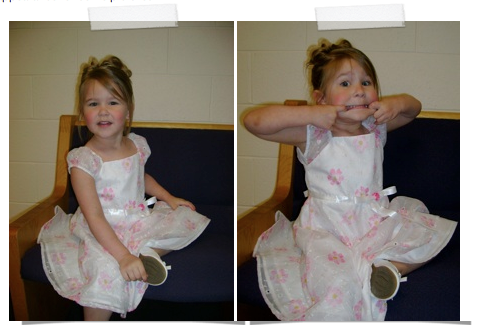 VBS — This summer I decided to sign Abbi up for Vacation Bible School at church. Since this was Abbi's first year I figured it would be best if I also volunteered as a helper in her class. Actually I ended up being a leader of a group of 3 year olds, surprise to me! Abbi did a fabulous job the entire week, especially seeing as VBS was every night from 6:30 – 8:30pm. Abbi's normal bedtime is usually between 7 and 7:30. We didn't get home each night until 9pm. With no naps during the day and late bedtimes each night, we were both ready for the week to be over. But Abbi did have a great time learning the new songs, playing the games and playing with the other kids!
Ok, this is getting long so I'm going to continue this on in a new post. If you're interested in reading more about our busy month, you can head on over to the next post here!