I have both an older sister and a younger sister. My older sister is quite a few years older than me and, unfortunately, got stuck being my babysitter more than anything. My younger sister is 14 months younger than me.
It is no secret that my younger sister and I didn't always get a long. We were so close in age and so different that we often ended up getting at each other's throats. However, I do have so good "sister" memories of the two of us together.
I look at Abbi and Zoe now, 28 months apart in age, and am in awe of the sister bond that has already formed between them. Zoe thinks her big sister is the funniest thing on earth. Abbi can make her laugh no matter what the circumstance. And, oh man, can they laugh? Their laughter is absolutely contagious!
Abbi takes her job as big sister to heart as well. When we are driving, and Zoe is crying or fussing, I can often hear Abbi in the backseat saying (in this crazy high, soft voice), "You're ok sweetie. We're almost home. You're ok." Or she'll say to me, "Mom, I'm holding Zoe's hand (or foot) to make her feel better." It melts my heart.
Abbi will also say things like: "Zoe, you're my best sister ever I had."
Now, they do have their not-so-glamerous sister moments as well. I have to explain, and re-explain, to Abbi that "trading" toys with Zoe is not fair if Zoe doesn't want to trade her toy. And taking toys away from Zoe just because you want it isn't acceptable either. But Zoe is quickly learning Abbi's tricks and is starting to put up a fight.
The best is putting the two of them in the bathtub together. They are a riot! No matter how bad my day as been, I can't help but laugh with them.
I hope their sister bond continues to grow. I hope they are great friends. I know they will have their moments and I'm sure to be breaking up some throw-down nasty fights. Those are bound to happen with any sibling. But 10 years from now I want to walk into their bedroom to find them rolling around on the floor laughing hysterically at each other, unsure of even the reason they started laughing. Twenty years from now I want them staying up late on the phone to each other talking about how embarrassed Zoe was when she realized she had food stuck in her teeth on her date. Thirty years from now I want to be sitting on the couch with them, watching their kids playing together, making each other laugh until their stomachs hurt! In a good way!!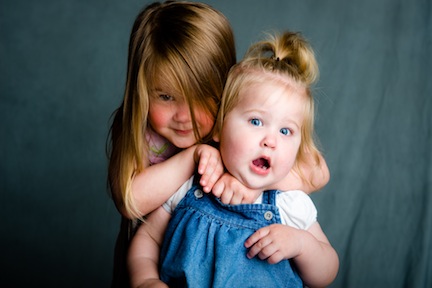 * The picture above is a photo that was taken by Walcott Imaging. I absolutely love it because it captures my girls perfectly!