Abbi told me a few weeks ago that she wanted to go to Africa to see the animals. Ok kid, let's go!
Ok, so we can't actually pick up and fly off to Africa for a safari (not yet at least) but we could go to the zoo. And that's what we did!
On somewhat of a whim, we packed the girls up and headed to the zoo this morning. We decided to head a little further south to Battle Creek to Binder Park Zoo rather than heading north to John Ball Zoo. We've gone to John Ball Zoo the past two years and thought we would give BInder Park Zoo a try. Although it was a little further of a drive it was totally worth it!
The zoo was a much more "natural zoo". Animals were mixed in with other animals and it didn't feel like little cages here and there. And, this is the best part, they had an entire Africa section!!! Africa here we come Abbi!
After a short tram ride we were in Africa. I loved that most of the animals were grouped together in a wide open prairie. Zebras. Impala. Ostrich. Gazelles. Giraffe. Birds. It was so cool to see these animals with each other, just like I would imagine it to be like in Africa. All that was missing were the predators…they were secluded in the zoo, much to Tim's dismay.
The absolutely best part was that Abbi got to feed a giraffe! She loved it! All she wanted to see were the giraffes and then she got to feed them some lettuce!!! And she had no fear whatsoever, not even when that super long black tongue began wrapping itself around the lettuce she was holding. Loved it. LOVED. IT!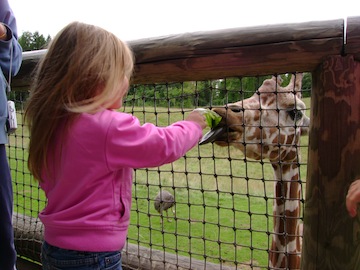 And Zoe got in on the zoo fun as well. No, she didn't feed a giraffe. I'm sure if we had given her the chance she would have wanted to keep the lettuce to herself. Not that she likes lettuce exactly, it's more so the fact that she wouldn't want to give up something that she had. Instead we let her play with the goats in the petting zoo.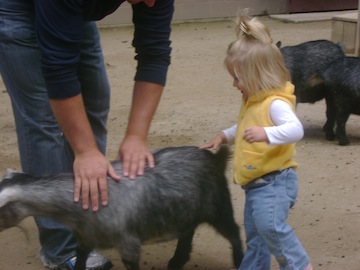 I think we all had a good time. It meant a day of no naps for the girls but they were really good about it. And, after going out to dinner with the Folletts tonight, they hit their pillows hard. With that being said, I'm going to push publish and head to bed myself!
If you want to check out more pictures from our time at the zoo, you can check them out here!