There was a time in elementary school where one of my teachers had us do a project that involved our silhouettes. I honestly don't remember what grade it was or what occasion (most likely Mother's Day) but I remember love them. I still love silhouettes. There is just something about a child's profile that captures their innocence. I'm a big fan of capturing my girls' innocence because, most days, they are monsters!
Needless to say, I was very excited when my friend, and fellow blogger, Katie started Beauty In Backlight.

Beauty In Backlight takes the classic silhouette and adds a little modern touch. After searching for a more unique Mother's Day gift idea, Katie found several ideas for making cut-out silhouettes, which sounded great but Katie took it one step further and went digital! By doing the silhouettes digitally you don't lose any of those little details that are often lost in the cut-out version. Also, the digital method gives you more variety in sizes, shapes, surrounding color, and personal monogramming. Beauty In Backlight can also print your silhouette on everything from posters to personalized stationary!
As I mentioned before, BinB silhouettes also make a great gift idea! Grandma's will totally fall in love with their very own silhouette of your kids or you can get her a very stylish "scrabble tile" pendant with your child's silhouette. Or become the favorite daughter/daughter-in-law and get her both!!!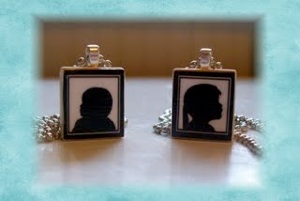 (those are actually my girls!)
Now, for all of you cute pregnant women out there…this one is for you! Beauty In Backlight also offers pregnancy silhouettes. What an amazing way to capture how truly beautiful you look with a silhouette of your little baby bump!
Ordering your Beauty In Backlight silhouette is so simple, the prices are amazingly affordable, and the end product….breath taking! I chose the Sisters in Silhouette design and love it!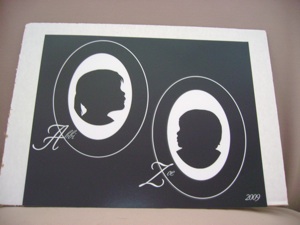 The Giveaway!
Katie from Beauty in Backlight is giving one of my wonderful readers their very own silhouette design and 1 print (12×12, 8×8, 8×10, or 2-5x7s)!
How To Enter*:
Go check out Beauty In Backlight and then tell me in a comment what you would chose to do for your silhouette if you won. I chose my kids but I'm thinking of doing another one of our puppy! Silhouettes aren't limited to just kids! Maybe you want to do your silhouette, your cute pregnant belly, your cat! Make sure you include your email address in the comment so I can contact you if you win!
*required to enter
Extra Entries:!
Once you complete the above required entry, you can enter again by doing any of the following. Just make sure you leave an additional comment for each of your additional entries:
• Subscribe to my blog
• Follow me on Twitter and tweet about this contest.
• Spread the word about this giveaway by posting about it on your blog
• Become a follower on the Beauty In Backlight site
• Add the Beauty In Backlight button to your blog sidebar or add them in your blogroll
• Follow Beauty In Backlight on Twitter
This giveaway is open to US addresses and will end at 11:59pm EST on August 14. Don't forget to leave an additional comment for each entry and include your email address in at least one of those comments!