If you don't know, and you probably don't since I have yet to really mention anything here about it, I have another website that I just started. It is a site dedicated to gadgets and, more specifically, gadgets that are geared towards moms and kids. Yay! I'm hoping that someone will find it useful. Ok, at least go check it out! Please!
If you do go check it out you'll find my review of some great new iPhone apps for kids. My 3 year old loves playing on my iPhone. She has a whole screen dedicated to her games and apps. And these three new apps have quickly become her favorite!
Old MacDonald by Duck Duck Moose: a fun and eduational app centered around the familiar song "Old MacDonald". How does this app set itself apart from the other Old MacDonald apps out there? Oh, in so many ways! The characters are not your typical cow, duck, or sheep — not with characters like Pig-casso or a Cow philosopher on the farm. Each screen also features interactive characters! This is my daughter's favorite part….read more of my review here!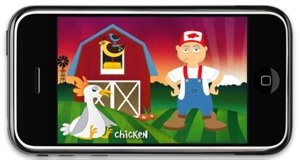 Little Lala: This is an adorable audio book app about a little girl, Lala, who travels the world in search of food for her upcoming party. Let your child read the book herself or select the play mode to have the book read aloud…read more of my review here!
Little Lala's ABC's: Another great app from the makers of LIttle Lala. This app helps teach your little one their ABC's with a flashcard presentation of the letter in both uppercase and lowercase, an animal who's name starts with that letter, and the spelling of that animal's name…read more of my review here!