Living in Michigan all my life I know that, once the snow starts falling, we'll be forced inside and all of our outdoor-projects will come to an end.  Whether they are finished or not. Unfortunately the hubby has had to work a lot of long hours, extra evenings, and even some weekends lately so our time to get these projects done are pretty limited.  Let's be honest, I can only do so much when it comes to outdoor projects.  I draw my line at climbing a ladder and cutting down dead tree limbs. Judge if you must.
I also haven't been pushing the hubby to do all these projects because he's been working so much.  I want him to enjoy his time at home and with the girls.  But, to my surprise and delight, he actually wanted to tackle some projects this weekend.  Woo Hoo!
Our project-weekend actually started when I received my new storage unit in the mail.  I won this storage unit from the All Children's Furniture contest that Katie was running on her blog!  I used my winnings to replace the old white shelf thing that I've had since college.  It was an eye-sore that my husband was hoping would disappear when we moved, so he was thrilled to see it replaced with this: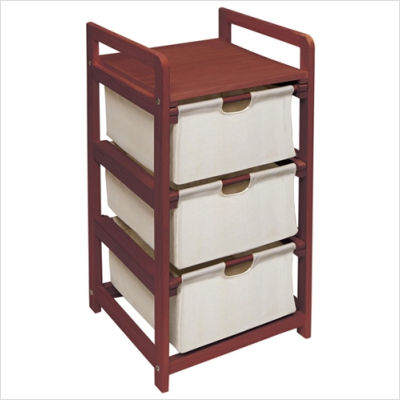 On Saturday we took the shelving that Tim won on auction and cut it to the right height to fit our basement.  After putting up a few bases and shelves I was able to get all boxes off the floor in my basement and I have a new place to store cleaning supplies and all the canning I did this year.  WOO HOO!
We were even able to put a set of the selves up in the garage to clean that place up.  After months of parking outside Tim is finally able to park in the garage…if I can manage to leave him enough space and not park my van right in the middle.
On Sunday Tim finished cleaning out the garage by cutting up some of the trashed wood we had laying around and burning it out back.  Abbi was a huge helper!  She loved being daddy's little helper.  It was so cool to see her spending time with her daddy.  She needed it.
Now I'm looking around and realizing I have projects to do in the house.  I'm totally procrastinating though!  That's what I do best!