LIONS by Animal Planet
Lions are by far my favorite from the big cat line-up. There is just something about them. They seem so laid back and somewhat lazy but, by just the look in their eyes, they command authority.  So much like the house cats we used to have.
I always wanted to have a pet lion and, had I grown up in the 60s, I just might have!  Apparently, in the 1960s exotic pets were all the rage, especially since the Endangered Species Act had not yet gone into effect.  That is how Ace Bourke and John Rendall came to know Christian the Lion.  You may have seen their story hit YouTube in a short video.  Now you can hear the story behind the video from Bourke and Rendall themselves in A Lion Called Christian, a segment on Animal Planet's four-part DVD LIONS.
LIONS helps demystify the king of the jungle in four amazing videos: A Lion Called Christian, The Lion's Share, White Lions, and Rogue Lions.
The Lion's Share takes you inside Tanzania's Serengeti as a drought tests the bonds of lion communities living there, while White Lions explores the regal realm of the beautiful white lions.  I found Rogue Lions to be very interesting.  The video gives you an inside look at the "rogue" lions in Kruger National Park and how they are being rehabilitated from lions who once targeted humans as a food source to animals who have a healthy fear of humans again.
I thought that after our recent trip to the zoo that my daughter would be in awe of LIONS.  Unfortunately she is still a little too young to appreciate the stories at this point.  She is only 3.  I, however, loved it!  I think most elementary aged and older kids will really enjoy LIONS (available on DVD for $14.95).
Elmo's Animal Adventures
My girls love Elmo. What toddler or preschooler doesn't I guess. So, of course, any Elmo video will capture their attention from beginning to end. And Elmo's Animal Adventure was no exception!
As I mentioned before, animals are a fascination in our house since our trip to the zoo.  My three year old is especially interested in how not all animals are the same.  Some go in the water.  Some fly.  Some just lay on the couch and snore (that would be our dog)!  And, being a complete Biology nerd myself, I absolutely love exploring the animal world with her.
Elmo's Animal Adventures takes Elmo and his friends on three fun-filled adventures as they learn more about the animals around them.  Elmo and Telly help Little Bo Peep find her missing cow using clues and teamwork.  Then Elmo and Abby learn animal facts on "The Find The Amphibian" game show.  Finally, go on a camp out with Elmo and discover all the animals around you in the wilderness.

My daughter's favorite part was "The Find The Amphibian" game show. I think she really liked saying the world 'amphibian'!  Of course, in true Sesame Street fashion, you'll even recognize a few special guests!!!

Elmo's Animal Adventures retails for $14.93 and is available on DVD.
The Giveaway:
I have 3 copies of each DVD (LIONS and Elmo's Animal Adventures) to giveaway here!  That's SIX WINNERS!!! THREE winners will receive a copy of  LIONS and THREE winners will receive a copy of Elmo's Animal Adventures.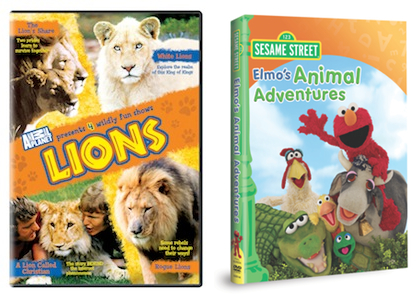 How To Enter:
1 entry – Leave a comment on this post telling me your favorite animal.

1 entry – Subscribe to Stacey says… via RSS.

1 entry – Follow me (@satceygirl) on Twitter and tweet about this contest (you can do this every day and receive an entry each day!).

5 entries – Blog about this contest and leave me a link to your post.

5 entries – Not a blogger? Send an email to 5 of your friends with a link to this contest. Make sure you CC me (staceysays (at) me (dot) com) on that email and then leave a comment here saying that you did so.
The Details:
The six winners will be randomly selected from the comments posted by Friday, October 23. All entries will be verified and must include an email address where I can contact you if you should win. This contest is open to US shipping addresses. You can read more about Giveaway Policies here.
*Disclaimer: I did receive a complimentary copy of these DVDs.  However, receiving the complimentary product in no way affects my opinions stated here.