I always thought it would be fun to be locked in a big department store over night. To have the run of the place while no one else was there, playing with all the toys, jumping on the demo beds! FUN!
Then I saw Night at the Museum and realized I was dreaming too small! The real fun was being had in a museum where the exhibits came to life!
Night at the Museum told the story Larry Daley (Ben Stiller) as he takes the job of night watchman at the Museum of Natural History, where the exhibits come to life each night.
I loved Night at the Museum and thought the casting was perfect! Owen Wilson as a miniature cowboy? PERFECT!!! I also loved how these historical figures took on personalities as they came to life. Of course Sacagawea would get annoyed at Lewis and Clark and their indecisiveness!
Ben Stiller returns, along with his historical friends, when the exhibits are retired to the archives of the Smithsonian Institution in Night at the Museum: Battle of the Smithsonian.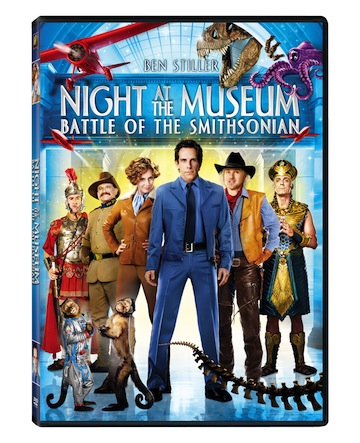 I have not seen this movie yet but am so excited for its DVD release on December 1.
The Special Features look amazing, as it is packed full! I'm especially looking forward to the Monkey Mischief Featurettes (that little monkey was hilarious in the first movie) and the Gag Reel. Honestly, with actors like Ben Stiller, Amy Adams, Robin Williams, Owen Wilson, Hank Azaria, and more, can you imagine the fun they had on set?
CAN NOT WAIT!!!