I'm usually not a big fan of sequels or three-quels to animated movies.  It seems like something usually gets lost in each release.  Not the case in the Ice Age trilogy!
My family loved Ice Age.  We loved Ice Age: The Meltdown.  And, without a doubt, we love Ice Age 3: Dawn of the Dinosaurs!!!
My three year old, Abbi, has been facinated with dinosaurs lately so she was really excited when we received a copy of Ice Age 3 in the mail.  She loved watching as Many, Sid, Diego, and Ellie discovered a lost world of ferociously funny dinosaurs as they return to the screen.
If you didn't see the movie while it was in theaters I don't want to give away too much here.  Let me just say that it is really, really cute and funny!!!  It does not disappoint!
My favorite part about the Ice Age movies is that they continue to get the same amazing actors to supply the voices on each of these characters.  For a third time Ray Romano, John Leguizamo, and Denis Leary  are back as Manny, Sid, and Diego.  And, of course, the movie would not be complete without Queen Latifah as Ellie.
Ice Age 3: Dawn of the Dinosaurs will be released October 27 in three different options:
Ice Age 3 Dawn of the Dinosaursstandard DVD for $29.98
Ice Age 3 Dawn of the Dinosaurs "Scrat Pack" – This double DVD pack, available for a limited time only, will feature a ton of special features focusing on that very determined squirrel. $34.98
Ice Age 3 Dawn of the Dinosaurs Three Disc Release – This pack includes Blu-ray, DVD, and a Digital Copy, as well as hours of extras. From deleted scenes to an Ice Age digital story book maker, your family will be entertained for hours! $39.99
Ok, I know all this talk about Ice Age 3 is really unfair since the DVD doesn't hit store shelves for another month so how about a few fun Ice Age 3 activities to keep you happy for a while?
If your kids love the Ice Age movies as much as mine then you might be interested in some fun Halloween activities featuring both Sid and Scrat!  First I have two pumpkin carving patterns that easily allow you to carve Sid's face onto your pumpkins!  You can download them here and here.  Second, and this is for you creative moms out there, you can create a Scrat Halloween costume for your child!!!  No, I'm not kidding.  You can get the all of the instructions over here.  Of course you can find even more activities, downloads, and games on the Ice Age Website!
The Giveaway:
I am so excited to be giving away 5 copies of Ice Age 3: Dawn of the Dinosaurs!!! FIVE winners will receive their very own Ice Age 3 "Scrat Pack" (valued at $34.98).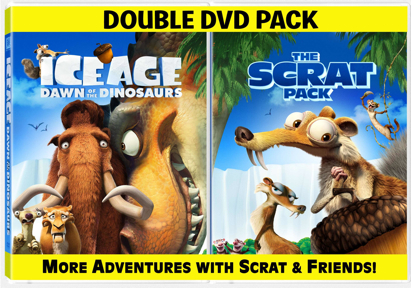 How To Enter:
1 entry – Leave a comment on this post telling me who your favorite Ice Age character is.

1 entry – Subscribe to Stacey says… via RSS.

1 entry – Follow me (@satceygirl) on Twitter and tweet about this contest.

5 entries – Blog about this contest and leave me a link to your post.

5 entries – Not a blogger? Send an email to 5 of your friends with a link to this contest. Make sure you CC me (staceysays (at) me (dot) com) on that email and then leave a comment here saying that you did so.

10 entries – Download the Sid pumpkin carving pattern from above and carve a "Sid Pumpkin". Take a picture, post it on your blog, Flickr, or send it to me in an email.

20 entries – Make your very own Scrat Costume (link above). Take a picture of your little one (or you) in the costume and post it on your blog, at Flickr, or send it to me in an email.
The Details:
The five winners will be randomly selected from the comments posted by Friday, October 23. All entries will be verified and must include an email address where I can contact you if you should win. This contest is open to US shipping addresses. You can read more about Giveaway Policies here.
*Disclaimer: I did receive a complimentary copy of this DVD.  However, receiving the complimentary product in no way affects my opinions stated here.