We just wrapped up Abbi's third week of pre-school and I'm beginning to see a light at the end of the tunnel! Every day that I've dropped her off at school, except the first day (ironically enough), she has cried. She pleads with me to take her with me. She tries to convince me that she doesn't want to be there. And she cries.
The first day of school she didn't even shed one tear. She gave Tim and I hugs and kisses and went on her way to the classroom. Of course we cried enough tears for her, after we reached our car and were out of her sight.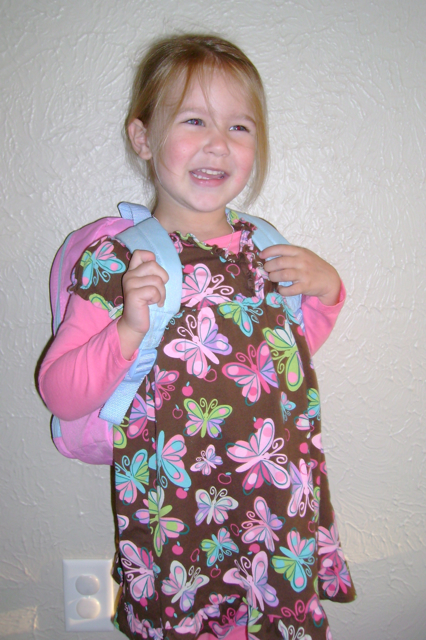 The second day it was just me dropping her off and the tears started hard and heavy the minute we pulled into the parking lot. My tears started hard and heavy the minute I reached the car after getting her to her classroom. Every day there after the tears have been a little less and take longer and longer to start. I know that one day there won't be any tears at all when I drop her off and that makes me tear-up.
Now, I must say, she is totally fine when I pick her up two and a half hours later. No tears. No signs of tears. Just smiles and excited rattling on about what they did that day. That makes dropping her the next time a little easier.
Today though, as we were washing our hand in the school bathroom before class, I saw my little girl growing up. After she was finished washing her hand she said, "Here Kendall (the little girl waiting to use one of the sinks), you can use the stool. I'm all done." And she went on to move the stool over to the other sink for her new friend.
She has a school friend! She called her by name and even talked about her today at lunch.
I'm so excited for Abbi. I get excited when she tells me about all the things they are doing in school. "Can you believe we painted with real apples, mom?" It is like she is discovering all of these new little secrets and I absolutely love that she wants to share them with me. It makes me sad though, too. My baby is growing up so quickly. Yes, I love this age and love all of the great things we get to do together with every passing year but those irrational mother emotions take over and the sadness overwhelms me.
My little girl is growing up.
One day I know she won't cry when I drop her off at school. I know this. I know this. But will I?