Last week my husband turned 35!  I'm sure he's cringing as he reads this.  I think age bothers him much more than it does me.  Then again, he's in his mid-thirties and I'm just barely thirty, so whatever.
Anyhow, we celebrated his birthday with dinner with his parents and cupcakes.  Including one giant cupcake!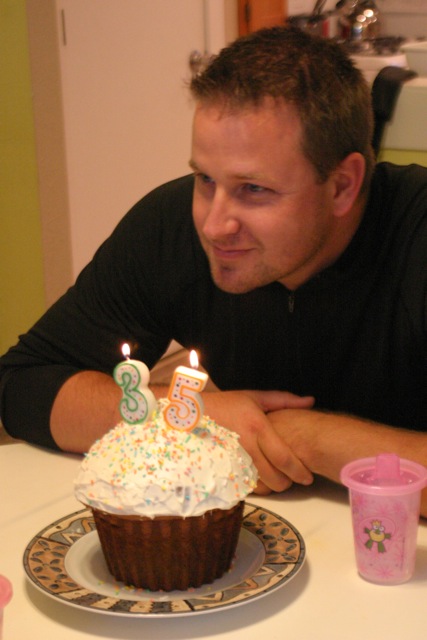 No, that is not his pink sippy cup.  No, he didn't eat that entire cupcake.  And Yes, that is his real age, no matter what he tells you!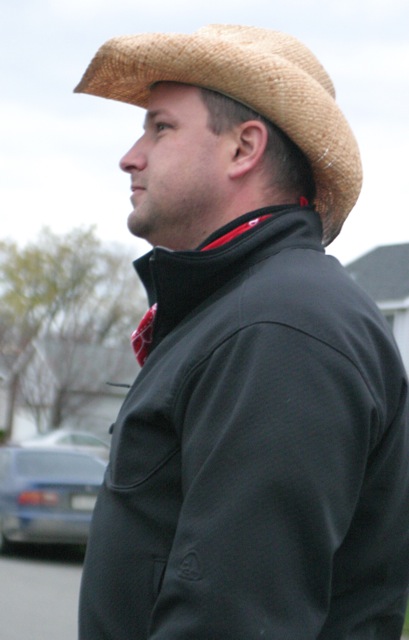 I had to throw this photo in here, too.  Doesn't he make such a cute cowboy?  You can agree with me, go ahead.  Ok, now back off, he's mine!
So, what did he get for his birthday? Well, if the giant cupcake wasn't enough he did get a musical card from the girls and a new driveway.  That may not sound like much but the guy is giddy over his new driveway.  Honestly, if you want to see an inappropriately happy man, stop by this winter when he's out snow-blowing his new driveway!  Giddy!
Happy Birthday honey!  Here's to 35 years and 5 days!