Forty years.  FORTY YEARS!  This week Sesame Street is celebrating forty years of singing, dancing, laughing and teaching.
We love Sesame Street in our house!  It is one of those very rare shows that shows that bridges the generational gap between myself and my kids.  It is one of those rare children's programs that I can sit and watch with my kids without being driven crazy!
I actually love watching Sesame Street with my girls.  I love catching some of the old skits and songs from when I was a kid.  I love seeing actors and musicians make their way onto that famous street.  I couldn't help but laugh when Sandra Oh (hardcore Dr. Cristina Yang from "Grey's Anatomy") trades in her scrubs for wings as Cookie Monster's fairy cookie person!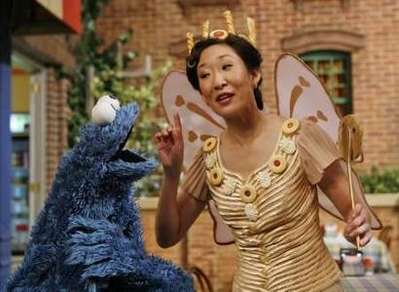 Mostly though, I love watching my girls learn while watching those loveable characters and monsters.  From numbers & letters to increasing their vocabulary and learning spanish! I'm pretty sure that I actually learned to count in spanish from Sesame Street when I was their age!
Sesame Workshop and Vivendi Entertainment has come up with an amazing way to celebrate those past 40 years of education and entertainment on the most famous street in the world with Sesame Street: Forty Years of Sunny Days!  This double dvd set, complete with a hard bound informational book, highlights some of the most memorable moments from each of those 40 seasons.
The dvds, packed with over 5 hours of muppet fun and never-before-seen backstage footage and interviews, are a great way to relive some of your favorite Sesame Street moments and to even discover some new ones!  I was amazed at how much my girls loved watching the episodes from the early years.  Although, Abbi was a little confused as to why Oscar wasn't green!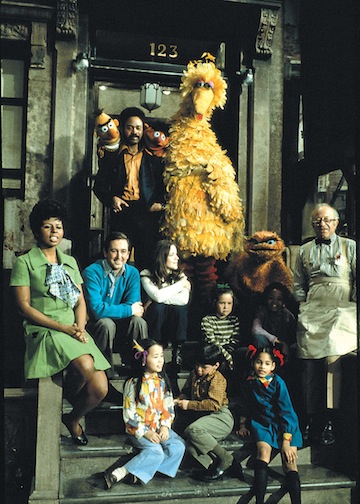 I have a whole new appreciation for Sesame Street — the writers, actors, puppeteers, and voice talents — after watching Forty Years of Sunny Days and reading through the Limited Edition Commemorative Book.  For example, did you know that Carol Spinney has been the man behind Big Bird and Oscar the Grouch since the beginning?  He is one of only three original cast members still on the show!
Although Sesame Street has undergone a few changes these past 40 years (new actors, new muppets, new topics), it still holds true to the principles it was rounded on in 1969 — educating and entertaining children!
Congratulations on 40 Years Sesame Street and here's to 40 more!!!
Forty Years of Sunny Days, priced at $29.93, is available at SesameStreet.org and other retailers.
*Disclaimer: I did receive a complimentary copy of Sesame Street: 40 Years of Sunny Days for this review.