If you find yourself face to face with aliens and they are not cute and waddly like "E.T." and they are threatening world domination or annihilation, then you might want to call Sigourney Weaver or Will Smith.  But if your catch the aliens in your attic, then you'll want to call on the Pearson kids!
When the Pearson family heads to a vacation house out in the middle of nowhere, the kids' seemingly boring vacation becomes anything but.  As knee-high four-armed aliens threaten to take over the world, the kids are left to defend it.  What about the parents?  Why do the parents always seem to be MIA in these movies? Ah, I digress!  The parents/adults are actually present in this movie.  Unfortunately though, the adults happen to fall victim to the aliens' mind-control devices — which provides a good dose of humor in the movie!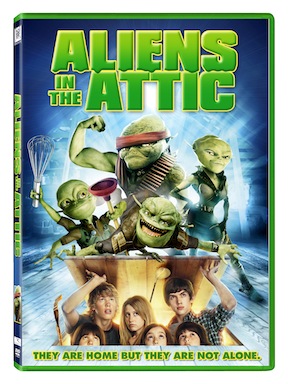 Aliens in the Attic is a great family movie! Very funny with a sense of adventure and an underlying theme of friendship!  I really enjoyed Aliens in the Attic and would definitely recommend it for your older kids (rated PG).
Parents will enjoy Aliens in the Attic because it's just one of those fun films that has you laughing right along with your kids.  Teens and tweens will love it because it features other teens as the heros who not only need to use teamwork, wit, and courage to defeat the aliens, but some video game-playing skills as well!  And, of course, your kids will recognize some of the out-of-this-world cast including Ashley Tisdale (High School Musical) and Austin Robert Butler ("Zoey 101").
Released just last week on Blu-ray and DVD from Twentieth Century Fox Home Entertainment, Aliens in the Attic is available at local retailers and is a must-have for the holidays!
The Giveaway:
The holidays are coming early for some of you as I have 5 copies of Aliens in the Attic dvd to give away!!!
How To Enter:
1 entry – Leave a comment on this post telling me your favorite Alien movie!

1 entry – Subscribe to Stacey says… via RSS.

1 entry – Follow me (@satceygirl) on Twitter and tweet about this contest.

5 entries – Blog about this contest and leave me a link to your post.

5 entries – Not a blogger? Send an email to 5 of your friends with a link to this contest. Make sure you CC me (staceysays (at) me (dot) com) on that email and then leave a comment here saying that you did so.
The Details:
The five winners will be randomly selected from the comments posted by Friday, November 27. All entries will be verified and must include an email address where I can contact you if you should win. This contest is open to US shipping addresses. You can read more about Giveaway Policies here.
*Disclaimer: I did receive a complimentary copy of this DVD to review. However, receiving the complimentary product in no way affects my opinions stated here.