With the unseasonably warm November weather here in Michigan this weekend we decided to finally climb Mt. Pisgah.  It's sad to say that this was our first time making the trek but at least we finally did it!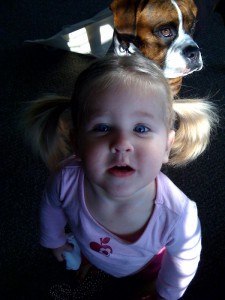 (Zoe in her pigtails. Of course the pigtails didn't stay in very long!)
Mt. Pisgah isn't actually a mountain.  Well, not a mountain in the traditional hiking sense.  It is a winding staircase that makes it way up the dunes to overlook Lake Michigan.  Two hundred thirty-nine stairs to be exact.  And everyone of them worth it to see a beautiful orange November sun setting over Lake Michigan!
Tim loaded Zoe up in the Kelty and packed her up the stairs while Abbi and I ran ahead.  And I mean it when I said we ran!  That girl has some serious energy!  Tim and Zoe lagged behind since they had to take Jasper back to the car…no dogs allowed on the stairs.  DANG IT!
I was amazed at Abbi's endurance.  She didn't want to stop at all on the way up and even went up and down the last stretch of stairs a few times.  And of course she was running around the top platform like a crazy girl with her sister.  I thought for sure that I would be carrying her at some point but she never asked or complained about being tired.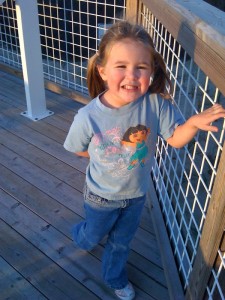 Zoe had an easy journey up the stairs as she rode on dad's back.  And dad was a trooper for packing her up all those stairs.  My legs were burning without carrying any extra weight so I appreciate him doing it and feeling the extra burn.
Zoe did, however, walk down the stairs.  Holding daddy's hand she walked down all 239 steps!  I couldn't believe she did it because those stairs were a bit much for her little legs.  But she did!