Someone please tell me how it's possible that I have a four year old!  That's right, my baby turns four today.  And she is so excited about!
I think this is the first birthday where she was actually anticipating her birthday.  She's been asking (since Halloween) when it would be her birthday.  We told her that her birthday was in December and even showed it to her on the calendar.  She eagerly went to that calendar every morning to mark off each day with an "x", bringing her one day closer to her birthday.
The best part is that she wasn't begging for a cake or toys (although she's mentioned a time or two-hundred that she would like this toy or that toy for her birthday).  Instead, she was just satisfied to know that when she woke up this morning that it was her birthday and that she was now 4 years old!
So, to celebrate her birthday we made cookies last night for her to take to school and share with her school friends today.  Of course they sang "Happy Birthday" to her at school and she got to make a birthday crown and pick a toy out of the birthday box.  She chose bubbles.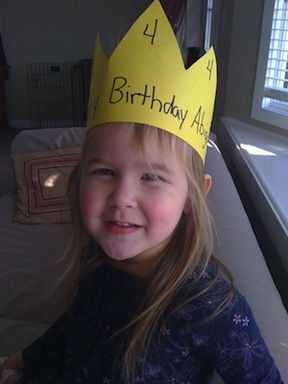 Tonight we will open her presents, probably head to McDonalds for dinner (per the birthday girl's request), and then head downtown for the Parade of Lights.  Low key night but we will try to make every part of it special for our birthday girl.
I'm trying not to get all weepy and sentimental as I type this but it's hard.  I feel like she's grown up so much lately.  Did I mention that at Thanksgiving she said the prayer for everyone around the table and then shared what she was thankful for?  Such a big girl!
It's hard to believe that just four short years ago I brought home this little one: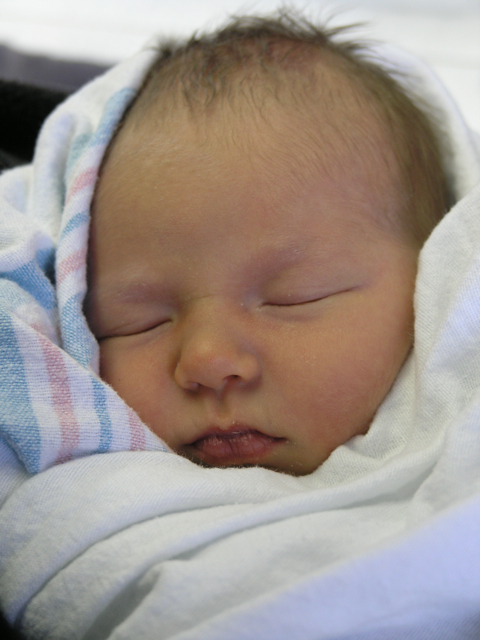 And now I have this: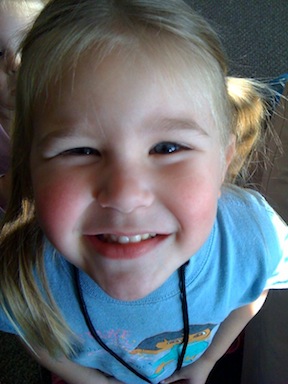 We love you so much Abbi! Happy Birthday Boo!