Last night I shared with you my decision to join the The Happiness Challenge.  You can read about it here.  January's focus is energy and this week's challenge is toss and organize.
With a toddler, a preschooler, and a puppy all running around our small ranch home, I feel like I'm constantly tossing and organizing, to no avail.  I can spend an hour organizing and cleaning out the toy box and bins and an hour later it was as though I had never even touched them.  So frustrating!
So, when presented with the toss and organize challenge this week, I knew my focus could not be on the kids' stuff.  Cleaning out the kids' stuff is something that needs to be done.  Clothes need to be organized and swapped out with the change of the season or as sizes change; books organized; broken toys tossed out.  That stuff doesn't bring me a sense of happiness.  A sense of accomplishment, yes.  A sense of happiness, no.
This week I'm focusing on me.  I'm organizing areas in my life that will bring me closer to happiness.  My kitchen and office!
Our house is small, so storage is limited.  Some of my kitchen stuff is still in storage while the rest is crammed into cabinets and cluttering up my countertops.  My "office" is spread out between our dining room and our kitchen, again cluttering up my countertops and serving as eyesores.
I decided, about 6 months ago or so, that I needed a cabinet of sorts in our dining room, where my desk currently sat.  A cabinet that would serve as more storage, more usable storage.  My husband took the general description I gave him of what I thought I needed and spoke with is friend who works at his father's custom cabinetry business.   A few months later I got a sneak preview of my cabinet and this past weekend my new cabinet was delivered!
Here it is: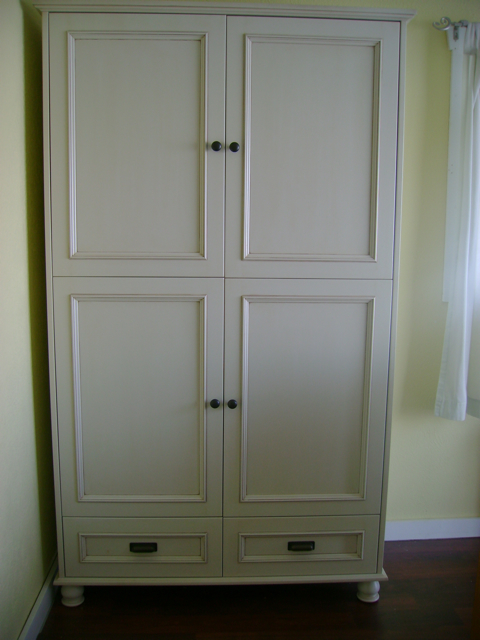 Isn't it beautiful?  Ok, the picture actually doesn't do it justice.  The finish is this really cook antiqued look and the pulls we put on it are oil-rubbed bronze.  The doors and drawers have that soft-close mechanism on them where you can't slam them.  This is a beautiful thing!  The bottom set of doors not only house shelves but two small drawers, too.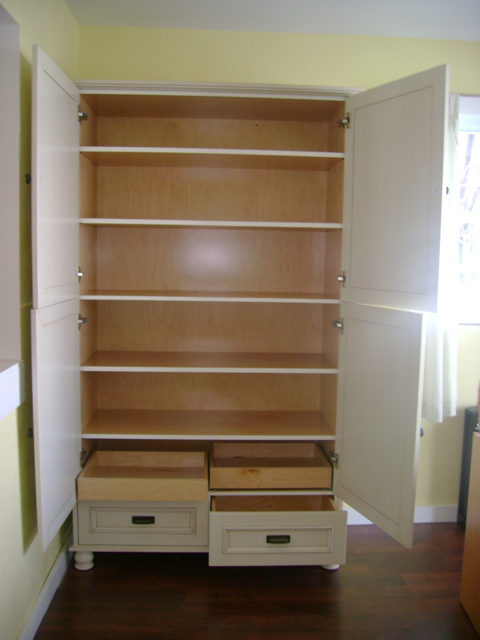 So on to the tossing and organizing.
Organize – My lovely new cabinet would serve two purposes: to organize my kitchen and to organize my office.  The top doored area is where I would put the kitchen stuff cluttering up my counters and cabinets – my mixer, mixing bowls, applesauce that I canned this fall, the Foreman grill, and the food I don't use day-to-day (baking items).  The bottom doored area is for my office stuff – printer, modem, router, hard drive, and the office supplies I use pretty often.  The bottom two drawers are for the girls.  Let me tell you that they were so super excited to find out that they got space in "mom's cool new cabinet" too!  The drawers are now housing their coloring books, paper, crayons, and pencils.
Toss – With organizing comes tossing!  As I started to move things over from my kitchen to my new cabinet, I was able to move things around in my cabinets and toss out some old food and office stuff I no longer used.
Of course, once I started organizing the energy just kind of spilled over to other areas.  I spent yesterday and today cleaning out my filing cabinet, something that I haven't done in 5 years, and moved all our old bills and statements from the filing cabinet to storage boxes.  Strangely enough, it feels so good to have all those tasks done.  I really do find happiness when I am organized.
So those are the big things I focused on this week.  I'm happy to have them done, to see my kitchen counters again, to not have food falling out of the cabinets whenever I open them, and to have my office stuff out of site.  But my daily organization and tidying help to bring me happiness, too.  Here are some things I do:
Make our bed every day.  Even if I don't make it until 5pm, there is just something peaceful about climbing into a made bed rather than an unmade bed.
Making sure all the toys that clutter up the living room throughout the day are picked up and put away before bed.  Again, there is just something peaceful about waking up and walking out into a clutter-free living room.
Ok, there are only two that I can think of right now.  But I'd love to hear yours.  What are things you do on a daily basis to stay organized and happy?  Oh wait, did you want to see a picture of my cabinet now?  Sure you do!  Here it is: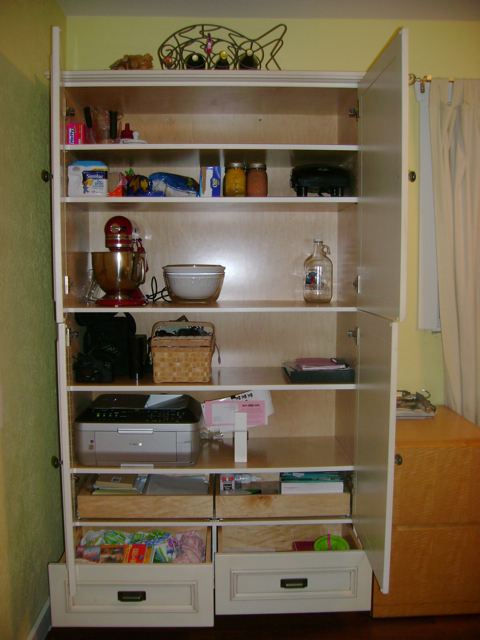 Actually there's more stuff in it since this picture was taken.  The top shelf now houses all my baking ingredients.  I'm smiling just looking at this picture.  I'm smiling because I know that I can walk into my dining room right now and the doors and drawers on that cabinet will be closed all off that stuff is hidden from view!  All I have to look at now is my beautiful new cabinet!
I'd love to hear about how you found happiness in your organizing and tossing this week.  Did you tackle a closet or your kitchen?  Did you brave the playroom or the garage?  Tell me about it!