Men and their hair — it's quite the relationship.  Some men don't really care about their hair, some men are super high-maintenance about their hair, and then the majority of men pretend that they really don't care about their hair and pretend they aren't high-maintenance about their hair but they do and they are!
I think my husband falls somewhere in between being high-maintenance and pretending not to care and not to be high-maintenance.  He gets his hair cut at the same salon as I do, uses product, and tries different styles.  He's tried everything from really short to growing it out and wearing it in a pony tail (he was hoping for that 'Sean Connery' look).  And I've been there for each stage and, oh, were some of those pre-ponytail stages rough. To his parent's delight he decided to ditch the pony tail before our wedding.
So, while my husband isn't obsessed with is hair, he does like to make it look nice and this is why I was surprised when he came home the other night and said he wanted to shave his head.
I'm sorry, WHAT?  Shave your head? As in, more than a little trim?  Shorter than a buzz-cut?  And you want me to help? WHAT?
Sure enough, he wanted to see what it would be like to have his head shaved.  So we grabbed some scissors beard shaver and started cutting.  About an hour or so later, my bathroom was a mess and my husband was bald.
Honestly, I wasn't sure how it was going to turn out.  Hair covers a lot of imperfections on our heads.  Not everyone can pull-off the bald look because, let's face it, some people have misshapen or oddly shaped heads.  Tim wasn't worried though.  He figured that his hair could always grow back in a few weeks and he could wear hats and skullcaps until it did.  He tends to be a little braver than me when it comes to this kind of stuff.  I also tend to like the longer, messy-hair look on men so I wasn't sure what I was going to think of his no-hair look.
So, how did it turn out?  Well, I'll let you decide for yourself: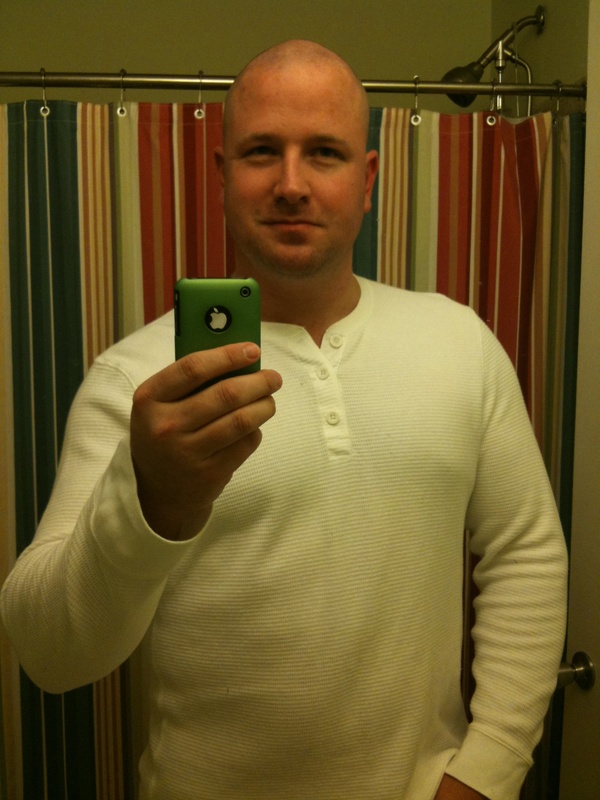 As far as I'm concerned, I like it.  I think he pulls it off really well and I'm pretty sure he's happy with it.  It's certainly going to save us some money as he won't be using any hair product or making regular visits to the salon.  And until he decides to grow it back out, if he decides to grow it back out, it's a fun new look for him!  He, of course, still looks like my husband but just a little different.  It's amazing how much hair, or lack of hair, alters a person's look
The best part was Zoe's reaction to it.  She kept cautiously wanting to touch is head, smiled, and would say "Daddy hair".
At the very least, at least I can now say that my hair is longer than my husband's again!