I'm excited to tell you about these two films this week because each of them turned out to be something other than I expected!
Fantastic Mr. Fox
Fantastic Mr. Fox is an animated film starring the legendary and very talented George Clooney and Meryl Streep as Mr. and Mrs. Fox!  The story is centered around the Fox family who, after being caught stealing by some farmers, settle in to a happy and safe home life with their eccentric son Ash and visiting nephew Kristopherson.  That is until Mr. Fox slips back into his sneaky ways and plots the greatest heist the animal world has ever seen!  Of course things don't quite go as plan and Mr. Fox will need the help of his friends to out-fox the mean old farmers Boggis, Bunce, and Bean.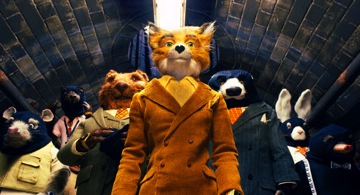 With a colorful supporting cast of Bill Murray, Owen Wilson, and Willem Dafoe, Fantastic Mr. Fox is definitely an entertaining film.  However, I would necessarily recommend it for your kids.  My four year old thought the animals were funny and watched bits of it here and there but she couldn't follow the story line and the type of stop-motion animation wasn't something she was used to.  I think older kids would enjoy the film, though, as it incorporates some great action.  I know I liked it!
Fantastic Mr. Fox is available on Blu-ray and standard DVD.  The dvds are packed full of behind-the-scenes bonus features.
Free Style
Cale Bryant (High School Musical heartthrob Corbin Bleu) is a not your typical teenage boy.  Sure, he has big dreams, has girl troubles, and is full of teenage angst, but he's also dealing with financial struggles of his family, which weighs heavily on him!  Despite his dreams of racing motocross professionally, he finds himself working multiple jobs just to help out his single mom.  It seems like everything is against him…until he meets Alex (Sandra Echeverria) who reminds Cale that the people around him love and believe in him and that anything is possible!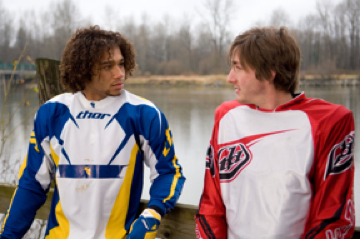 I'm just going to say it, I really enjoyed this movie!  It is a great story about a teenager who is not only dealing with all of these things going on around him, completely out of his control, but he also has to figure out who he is and what truly matters in his life.  I also love the theme of the importance of a supportive family and group of friends! I actually thought it was going to be one of those cheesy teen films but was pleasantly surprised at the great story line and action!
Free Style is currently on DVD and is rated PG.  I would definitely recommend this film!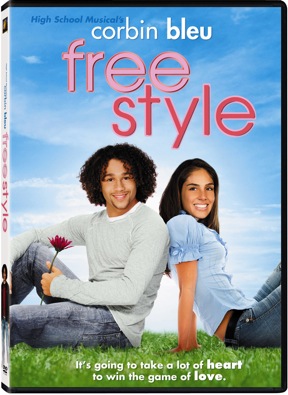 The Giveaway:
I have 3 copies of Fantastic Mr. Fox and 3 copies of Free Style to giveaway here!  That's SIX dvds and SIX winners!!!
How To Enter:
1 entry – Leave a comment on this post telling me something you wanted to do when you were a teen or something that you dream of doing even now.  (I still dream of being one of those people that brings animals to kids schools to teach them about the animals!)

1 entry – Subscribe to Stacey says… via RSS.

1 entry – Follow me (@Stacey_Says) on Twitter and tweet about this contest (you can do this every day and receive one entry each day!).

Fantastic Mr. Fox or Free Style? I entered to win them both on dvd at StaceySays.com!  http://bit.ly/deUtfW  @Stacey_Says

5 entries – Blog about this contest and leave me a link to your post.

5 entries – Not a blogger? Send an email to 5 of your friends with a link to this contest. Make sure you CC me (staceysays (at) me (dot) com) on that email and then leave a comment here saying that you did so.
The Details:
The SIX (6) winners will be randomly selected from the comments posted by Friday, March 12. All entries will be verified and must include an email address where I can contact you if you should win. This contest is open to US shipping addresses. You can read more about Giveaway Policies here.
*Disclaimer: I did receive a complimentary copy of these DVDs to review.  However, receiving the complimentary product in no way affects my opinions stated here.