Last fall I told you about the release of the Iron Man Armored Adventures Volume 1 dvd and now I'm back with Volume 2!!!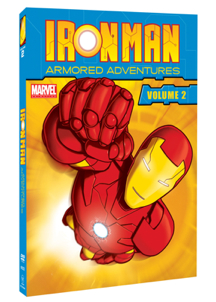 The Iron Man Armored Adventures dvds follow teen prodigy Tony Stark and his alter ego (and superhero) Iron Man.  Tony Stark/Iron Man isn't like most super heros.  He's not from another planet or been bitten by some radioactive spider.  His super powers come from his really cool technological inventions!
This time around Iron Man battles new threats, like Living Laser and Madame Masque, and old threat Obadiah Stane.  Every step of the way Tony and his friends encounter adventure and excitement.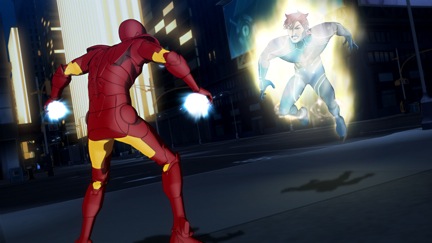 My favorite part, Tony…um, Iron Man…is still in school!  I love watching him balance being a superhero with still being a teenager — which means school work and friends!
Iron Man Armored Adventures Volume 2 features six exciting adventures — "Meltdown", "Ancient History 101", "Ready, A.I.M., Fire", "Masquerade", and "Seeing Red" — along with some fun special features.
If your kids liked Iron Man Armored Adventures Volume 1, they'll love Volume 2.
The Giveaway:
I have 3 copies of Iron Man Armored Adventures Volume One to giveaway here!
How To Enter:
1 entry – Leave a comment on this post telling me what super power you wish you could have.

1 entry – Subscribe to Stacey says… via RSS.

1 entry – Follow me (@Stacey_Says) on Twitter and tweet about this contest (you can do this every day and receive one entry each day!).

I entered to win Iron Man Armored Adventures (vol. 2) on dvd and you can too! http://tinyurl.com/ydlesq2 @Stacey_Says

5 entries – Blog about this contest and leave me a link to your post.

5 entries – Not a blogger? Send an email to 5 of your friends with a link to this contest. Make sure you CC me (staceysays (at) me (dot) com) on that email and then leave a comment here saying that you did so.
The Details:
The THREE (3) winners will be randomly selected from the comments posted by Friday, February 19. All entries will be verified and must include an email address where I can contact you if you should win. This contest is open to US shipping addresses. You can read more about Giveaway Policies here.
*Disclaimer: I did receive a complimentary copy of this DVD to review.  However, receiving the complimentary product in no way affects my opinions stated here.