This month in the Happiness Challenge was an utter failure.  I don't know what else to say about it.  The funny thing is that it should have been an easy month.  After all, it was all about Love!  How hard can it be to show the people around me that I love them?  Apparently it was more difficult than I had anticipated.
Week 5 (first week of February) was focusing on giving proofs of love.  So, I focused on giving personal attention to both of my girls — which means snuggling!  Zoe loves to rock together after her naps and Abbi loves to snuggle and read books together.  Sadly, I just don't do this enough.  The funny thing about this week was that Tim was out of town again for work so he didn't get any proofs of love.
Week 6 (second week of February) focused on fighting right.  Ah, yes, the fighting fair issue.  I'll go ahead and admit that neither Tim or I fight fair.  We use word like "always" and "never", big no-nos in the fair fighting world.  Interesting enough, Gretchen Rubin suggested that when your fights get heated to walk away and take a break, come back to the fight later.  That would never work for us.  I don't know who it would work for.  For us at least, if we take a break during a fight we just wouldn't come back and talk about what it was we were fighting about.  If we stop fighting about something then Tim figures everything is fine and dandy again, while I bottle it up and spew it all out the next time we have a fight.  Regardless if it has anything to do with what we are now fighting about.  So I'm just not sure about how to go about this one!
Week 7 (third week of February) told us to not expect praise or appreciation.  What?  You mean I shouldn't be expecting my husband to notice and praise me over how clean the linen closet is?  And I'm not allowed to get irritated when he doesn't hoist me on a pedestal for doing so?  Ok, seriously, this is something I've definitely learned since having kids.  I'm home all day and my "job" is to make sure that the kids are fed and still breathing by the end of the day and that the house is still standing.  My husband doesn't expect (or at least he doesn't say it) me to have a lavish meal on the table when he gets home and understands why the living room is in disarray when he walks in at 6pm.
Yet I've still found myself, on occasion, getting frustrated with him for not praising me for the work I have done during the day.  I'm used to working in the "working world" where you do receive praise for your great accomplishments and it has been a tough transition.  The funny thing is that I rarely give my husband praises for dragging his butt out of bed and to his office each and every day to make enough money for me to stay home with our kids.  So, I'm working on both ends of this — not expecting praise for every little thing I do and also dishing out praise more to him.  The cool thing about this one is that when you stop expecting the praise, you tend to treasure the unexpected praise even more when it does happen!
Week 8 (fourth week of February)…let me just say that I'm glad to see February end.  Not that I have anything personal against this short month, but I'm just looking forward to March and, hopefully, warmer weather!  Oh, so the resolution this week — kiss more, hug more, touch more.  Fun!
This one will be easy in respect to my kids (as long as I can put my phone and computer down for 5 minutes) because they love to snuggle!  They love hugs.  They love kisses!  The tricky one will be the husband since he is out of town, again!
So I'm not feeling too optimistic about my strides towards happiness this month. But there is always next month.  And I can continue to work on these resolutions.  I did get some encouragement when I was in Texas for the Mom 2.0 Summit.  I had the pleasure of hearing Gretchen Rubin speak during the Friday morning keynote.  She made the comment, "I just decided that writing about sad or frustrating things put me in a dark and miserable place.  I'd rather write about happiness.  You can't help but be happy when you write about happiness!"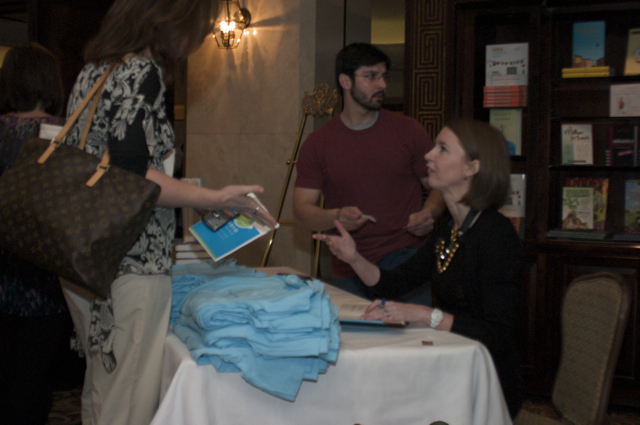 Out of that I have decided to write about more happy things here at my blog.  No, I'm not going to blow sunshine and rainbows up your butt and Yes, I will still write about the frustrating things in my life, but I'm going to try to focus more on the positive rather than the negative.  Ok, I might be blowing some sunshine and rainbows up your butt, too!