While my main reason for going to Texas this past weekend was to attend the Mom 2.0 Summit, it just wouldn't have been right if we didn't do a little sight-seeing as well.  And our wonderful hosts (my brother and Janice) were more than willing to share with us some of their favorite greater-Houston sites!
In case you missed my post about how I ended up going to the Mom 2.0 Summit (When Big Brothers Meddle), my trip to Houston was due to my brother who lives near Houston.  He, Janice, and Janice's two darling kids live just outside of Houston and graciously let Tim and I crash at their apartment during our stay.  They also served as our chauffeurs to and from the hotel/conference center.  Basically I'm trying to say that they were absolutely super!
When scheduling our trip we built in a day to spend with Scott and Janice and here are some of the fun things we did:
Downtown Houston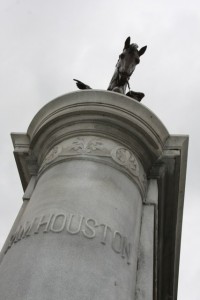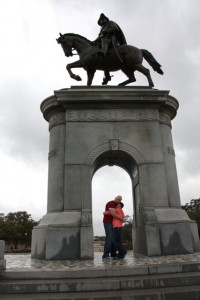 Sam Houston monument
FYI – I was totally freaking out because Sam Houston is pointing off into the distance and we just watched "Angels and Demons" a few weeks ago!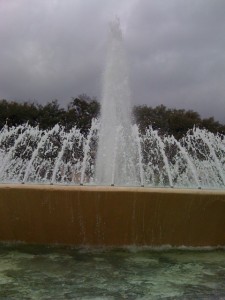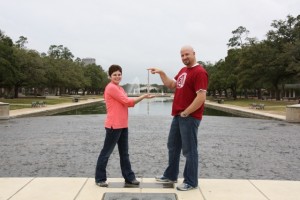 Their mini-version of the Washington Monument. You can actually see a better scale of it here.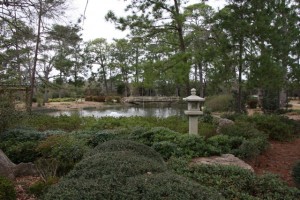 The Japanese Gardens
Galveston, TX (The Gulf of Mexico)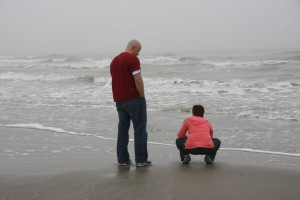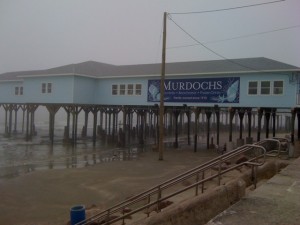 This is one of the few places that has rebuilt after Hurricane Ike.  It was so amazing to see how much had been wiped out and destroyed by that hurricane. As you drive down the highway into Galveston you can still see random boats out in fields that had been tossed there by the hurricane.  Shops and restaurants that once occupied beachfront property have vanished.
Brazos Bend
This is a State Park located out in the middle of nowhere.  Kind of one of those places where they decided to fence off a bunch of land, throw up some signs and some picnic tables, and call it a State Park so they could charge people to come in! But it was rumored to have alligators, so why not!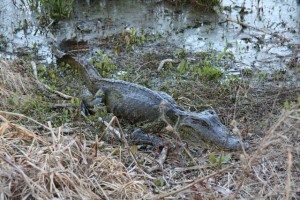 And of course we found some alligators!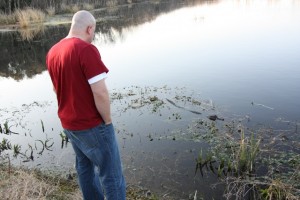 And someone thought it would be fun to get nice and close to one of those alligators! It was only after we got home that we read one of the State Park handouts that warned not to underestimate the speed of an alligator!
The Food
Despite eating conference food and McDonalds the majority of our time in Texas, I did get some delicious Sea Bass one night.  Unfortunately, Tim and Scott's steaks turned out to be not as good as my sea bass!  Below is a picture of Janice's daughter, Zoe, eating her sushi!  I seriously need her to hang out with my girls so they will eat something other than macaroni and cheese!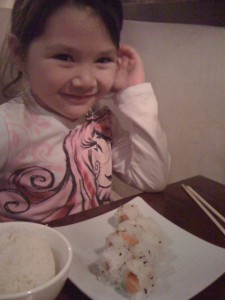 Isn't she adorable!
So, that was our trip to Houston.  You can see more pictures over on my Flickr page.  Thankfully the day that we did our sight-seeing it was 70 degrees!  They were calling for snow in Houston the day after we left!  I'm hoping we get back down to Houston again soon and are able to take the kids!  And thanks again to Scott, Janice, Ean, and Zoe for putting up with us, sacrificing their bedroom (Ean), and carting us around the Greater Houston area!  Love you guys!