Unless this is the first time you've been to my blog or you don't follow me on Twitter or Facebook, then you've probably heard me mention a time or ten that I was going to the Mom 2.0 Summit in Houston, TX.  Well, the Summit was this past weekend and I am sitting her trying to collect all of my thoughts.  Here goes!
First, I'm not even sure how to convey how significant this conference is.  The level of speakers at Mom 2.0 this year was just amazing, but more about that in a minute.  In the simplest of terms, being at Mom 2.0 and listening to those speakers, talking with them, asking them questions would be like meeting an author that has inspired you or meeting your favorite athlete.  Or, if you are an aspiring actor, like meeting one of the greats.  Does that help?
The Speakers
AH-MAZING!  The keynote speakers for both days included Gretchen Rubin (The Happiness Project), Heloise, Heather Armstrong (dooce.com), Maggie Mason (mightygirl.com), and Gabrielle Blair (designmom.com).  I know!  I could have sat and listened to Saturday's keynote panel all day!  They were that good! Even my husband was impressed!!!
And the speakers during the breakout sessions weren't too shabby either — Gwen Bell, Rebecca Woolf, Ciaran Blumenfeld, Karen Walrond, Allison Czarnecki, Isabel Kallman, Jenny Lawson, Marie LeBaron, and Jyl Johnson Pattee…just to name a few. The amount of knowledge these and the other fabulous speakers were willing to share was invaluable!  They spoke on everything from working with ad agencies and PR to photography and creating community.
The best part about these women is that, no matter how famous or popular they are or how huge their blogs are, they are so down to earth.  They have no problem answering questions and talking to even the smallest of bloggers (ahem, me) or posing for a picture.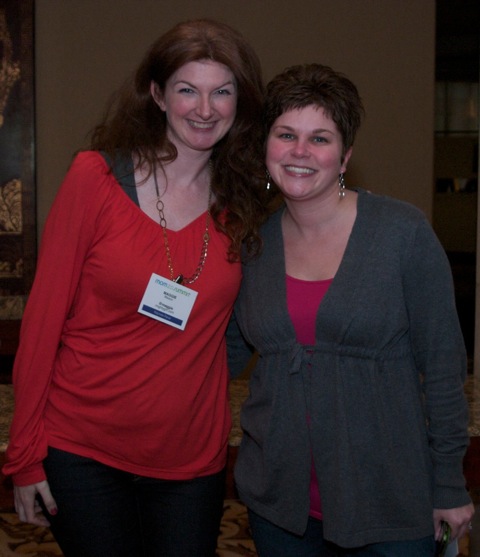 (me with Maggie Mason — Mighty Girl, @Maggie)
The Lessons
This is going to be tough but I'm going to just do some bullet points of things I took away from the sessions I attended.  If anything peaks your interest, let me know.  I'd be happy to chat more with you about them!
Different people want your blog in different ways — use email, video, photography, Twitter, and other Social Media outlets
Trademark your blog name and logo.  Copyright your material.
When doing PR and advertising campaigns, select brands that fit with your blog.  Don't change your blog to fit their brand.  And make sure the value is equal on both sides!
Engage with others
The FTC is not out to get bloggers but be smart and disclose.
Numbers, subscribers, followers, and stats are not the whole picture.  Think quality, not quantity.
Product reviews and blanket advertising is becoming a thing of the past.  Advertisers are beginning to embrace the rawness and artfulness of "those crazy bloggers" and involving them in campaigns — Heather Armstrong
Focus on content campaigns — Maggie Mason
Is your blog, especially your comment section, user friendly for your readers
Don't do video for the sake of doing video.  And when you do incorporate video, keep it under 4 minutes!
Shitty, authentic photos are better than canned photos.
The Overall Experience
I'll be honest, I was a bit skeptical when I first walked in Saturday morning.  The only other blogging conference I've been to is BlogHer, so pardon my comparisons.  BlogHer is the largest blogging conference in the country.  Thousands of attendees, huge and numerous sponsors, and an very large expo hall.  Mom 2.0 is a much more intimate conference.  The attendees is capped at 350 attendees (I think) and the expo was shockingly small, more like a lobby.  While I was surprised at the lack of exhibitors and companies and, well, swag, I found it to be refreshing.  I was able to focus more on networking with other bloggers and PR/marketing reps than walking aisles and aisles of booths.
The nice thing about the smaller size of the conference is that you find familiar faces in each session and break.  I didn't feel like a tiny fish swimming in a huge ocean, like I felt at BlogHer.  And as I said before, everyone was so nice and approachable!
And Mom 2.0 certainly did not disappoint when it came to "extra" activities.  Although I did not attend the Mad Men Party or the CheeseburgHer party, I did go to a few of the suites, met some ladies for drinks, and enjoyed a delicious dinner with Barilla and a small group of bloggers.  Oh, and FotoFest!  I was completely blown away by the photography skills of some of our fellow bloggers!!!  Mom 2.0 also offered a pre-screening of the animated film "Despicable Me" (coming to theaters this summer) and a special Q&A with the director and producer of Flicka 2 (coming to DVD this spring…I'll be telling you more about them in a later post).
It was also very cool that I got to share this experience with my husband and that he got to catch a glimpse into the grander scene of blogging.  I think, although he's super supportive of what I'm doing, he got a new perspective on it all.
Would I attend Mom 2.0 again?
Yes.  Well, maybe I should clarify.  Yes, if the same or a similar list of speakers were going to be there.  It was a great learning experience. Sure, there were some sessions where I walked out of it disappointed but that happened at BlogHer, too.
Will I attend Mom 2.0 in 2011 (New Orleans)?  I'm not sure.  It really depends on how life plays out next year.  I'd love to try Blissdom at some point, too.  And I'm thinking that next year will be my husband's year to go conferencing-about.  So, at this point I'm not booking my ticket but I'm also not saying no.
– – – I will be uploading photos soon to my Flickr page from Mom 2.0 – – –