Last week I found out that I was selected to be a brand ambassador for The View!  Wow, me, a brand ambassador.  Huh. Super!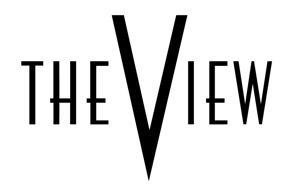 I've been watching The View off and on for years.  I started watching it college and then fell back in love with the show when I had my first daughter and it joyously aired at the same time as her morning nap!  Oh those were good times!  Now, with two little ones running around the house, I have to sneak off to catch a few moments when I can.  It's good to have a dvr in the house, too!
I'll be honest though, I haven't always enjoyed The View.  There was a season or two along the way that I just refused to watch.  I'm sure many of you know what I'm talking about.  And even now I don't always agree with everything the ladies are saying.  I think that is why I like the show so much.  Not because of the arguments between the co-hosts (although those can be fun) but because they each present such different opinions on subjects.  And I'm often surprised at which c0-host takes what view.
So, what does it mean to be a brand ambassador?  Well, it means that I have to watch The View more.  Sorry kids, mommy has work to do!  Just kidding!  It means that when I do watch The View I get to share my opinions and suggestions as to how to make it a better show with you and the people over at ABC.  Over the next few weeks I'll also be sharing with you some of the stuff happening at The View.
The first thing I want to share with you is an amazing sweepstakes happening over at Mom Central!   One lucky winner from that sweepstakes will be randomly selected to receive a trip to New York City to watch a taping of The View!  The sweepstakes ends February 28th so don't forget to check it out and enter!
* I am a participant in a Mom Central campaign for ABC Daytime and will receive a tote bag or other The View branded items to facilitate my review. However, all opinions stated are my own and are not being swayed by compensation.