It's just not a typical day in our house if I'm not hearing my four year old talking about Handy Manny.  Seriously.  She loves to pretend that Manny is coming over to play or to fix things, is making cards for him, and talks about how she is going to marry him!  Yes, marry him!!!  I can say with absolute certainty that my girls love their Playhouse Disney characters (my two year old is a little partial to Mickey these days)!
This is why I am so excited to be taking my girls to see Playhouse Disney Live on March 7!!!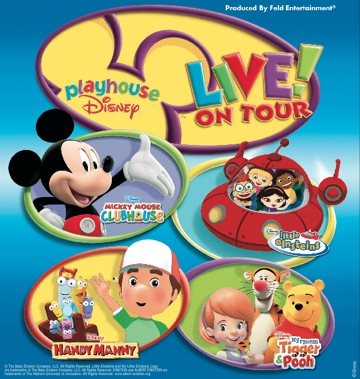 Honestly, my girls are going to hit the roof when they walk in and see their favorite Disney characters live and in person!  And on March 7 we will be heading up to the DeVos Performance Hall in Grand Rapids for this awesome experience.
Playhouse Disney Live features fun with Mickey Mouse and his Clubhouse friends, The Little Einsteins, Tigger, Pooh, and Darby, and Handy Manny and his tool friends.  I am getting excited just telling you about it!  You can check to see if Playhouse Disney Live or any of the other amazing Disney Live performances are coming to your area by visiting http://disney.go.com/disneylive/.
The GIVEAWAY
I have 2 Family Four Packs of tickets to the March 7 (4:30pm) show at DeVos Performance Hall (Grand Rapids, MI) to giveaway!!!
To Enter:
Mandatory Entry – Simply leave a comment below telling me who your favorite Disney character is!
1 entry – Subscribe to Stacey says… via RSS.

1 entry – Follow me (@Stacey_Says) on Twitter and tweet about this contest (you can do this every day and receive one entry each day!).

5 entries – Blog about this contest and leave me a link to your post.

5 entries – Not a blogger? Send an email to 5 of your friends with a link to this contest. Make sure you CC me (staceysays (at) me (dot) com) on that email and then leave a comment here saying that you did so.

1 entry – Answer the questions in the little trivia quiz below.  Just try your hardest (you won't be punished for wrong answers).  Put your answers in one comment.
1. What is the name of Mr. Lopart's cat on Handy Manny?
2. What town does Handy Manny live in?
3.  What is the secret password to enter the Mickey Mouse Clubhouse?
4.  What is the name of the Little Einstein's spaceship?
5.  Name the four Little Einsteins.
6.  What is the name of Darby's dog?
7. What is Tigger's favorite thing to do?
The Details:
The TWO (2) winners will be randomly selected from the comments posted by Wednesday, March 4. All entries will be verified and must include an email address where I can contact you if you should win. Please remember that this giveaway is for an event in Grand Rapids, MI on Sunday, March 7 at 4:30pm.  Please, only enter if you are able to attend the show!  You can read more about Giveaway Policies here.
*Disclaimer: I did receive complimentary tickets for my family to attend the Playhouse Disney Live event on March 4 so that I can bring you a review of that event in a later post.  However, receiving the complimentary tickets in no way affect my opinions stated here.