Sorry for the delay on announcing the winners of the Iron Man Armored Adventures Volume 2 dvd.  I'm currently sitting in the lobby of the Four Seasons in Houston at the Mom 2.0 Summit and am just now getting a chance to announce the winners.  I can't wait to tell you all more about the conference but, until I can collect my thoughts and articulate them into a post, I'll just announce some winners!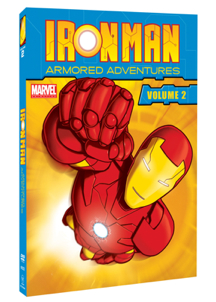 The THREE lucky winners of the Iron Man Armored Adventures Volume 2 dvd are:
Julie L

Amanda C

Krista W
Congratulations ladies!  You should be receiving an email from me soon about claiming your prize.  If you haven't received that email, please let me know (staceysays @ me . com).  For everyone else, thank you so much for entering!  Please note that Iron Man Armored Adventures Volume 2 is currently available to purchase on dvd!  Also, don't forget to check out my current giveaways located on the right side bar!!!
One more quick thing!  I was so impressed by your creativity regarding your super powers.  I thought I would share with you some of the different super powers you mentioned:
Super Strength — No more sliding furniture around the house when looking for lost toys, just lift with one little finger!

Super Speed — Oh the things I could get done!

Flying — I'm not sure what I would exactly do with this but it would be cool just to get away from everything and fly around for a while!

Mind control & emotion control — No more crabby kids.  Or husbands.  Or opinionated old women at the super market who believe I'm doing everything wrong as a mother!

Invisibility — Wow, I would actually get five minutes to myself!  And, no more "but mom, I didn't do anything wrong!"

Time Warp — I hate to live in the past but there are a few things I could definitely go back and change a little.

Mary Poppins super power — To snap my fingers and get things done?  Absolutely!  Sign me up!

Teleport — This would be super fabulous since traveling with my two girls any distance over 10 minutes is less than fun  right now!

Heal others — Sick kids and sick husband would be a thing of the past. Amen!
Thanks so much for sharing your super power wishes!  I had so much fun reading them and thinking of ways they could fit into my daily life!