Note: I cannot take credit for this wonderful idea, as it was something I saw on another blog. If this was your idea, please let me know so I can give you proper credit.  However, I am going to tell you how I personally did it.
If you've ever been to a blogging conference or a blogger meet-up (or probably any conference) you'll quickly realize that people like to hand out their business cards!  A lot of us actually spent time creating those cards and are proud of them, so we hand them out willingly and happily!  I remember being at Blogher last year and accepting business cards from anybody and everybody.  I left that weekend with an entire stack of people's business cards but, when I got home, I had no idea what to do with them all.  Sadly some got tossed and others got filed away for me to reference or contact later.  But, now as I attend more conferences, events, meet more bloggers and work with more companies, my stacks of business cards are beginning to clutter up my home office.
Honestly, I really hate tossing business cards because (1) people took the time and money to get those cards made or printed and (2) what if I wanted to or needed to contact that person 3 years from now?  Since I can't handle clutter around my house, my only other option was to wallpaper my home office with those lovely little cards.  However, since my home office is my entire house, I think my husband might have an objection or two to that.
So here is a quick, easy, cheap and practical way for me to now store those business cards!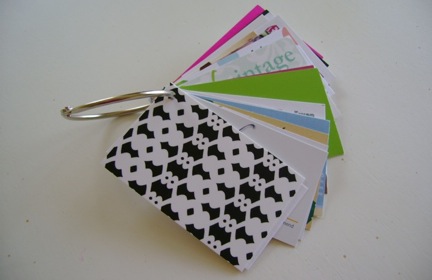 The how of this is so simple!  First you'll need a loose-leaf book ring.  You can pick these up at any office supply store or check the office supplies section at your grocery store.  They come in 1″ or 2″ (I'm using the 2″ ring).  You can get a box of the 2″ rings for $4 (quantity 12), so you can always keep them around for other projects or share them with friends.  Second, you'll need a hole punch.  I used the 1/8″ punch that I had lying around for crafts.  I think any size hole punch will do but the 1/8″ punch makes a perfect size hole to fit around the book rings.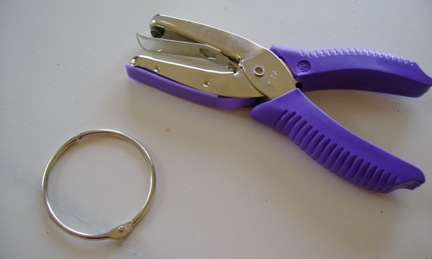 Next, simply punch a hole in the top corner of the business cards and thread them on to the book ring.  Done.  Now, wasn't that easy?  You're welcome!
On an organizational note, I threaded mine onto the ring alphabetically (based on blog or business name) because I'm an organized freak.  Eventually I'll separate them out and have one ring for bloggers and another for companies.  Again, organizational freak!
There you have it!  Now if we meet at a conference, event, or on the street, you can confidently hand me your business card and know that it won't just end up in the trash!
That's what I tackled this week!  What about you?  Any organizational tips you'd like to share as you do your spring cleaning?  You can share them here and link up at 5 Minutes For Mom's Tackle It Tuesday!