Not a day goes by that my girls are not dressed up as princesses, ballerinas, or as fairies.  They love to dress up.  And I love that it is something that they enjoy doing together!
Fairy-Gram is an amazing online store that I came across one day on Mom Made That.  I'm pretty sure that Fairy-Gram was designed with my girls in mind!  Ok, maybe not just for my girls, but for any little girl who loves to dress up or loves fairies!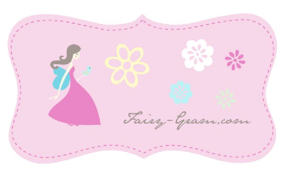 Everything a little girl needs to be a fairy is wrapped up in this amazing little Fairy-Gram.  Each Fairy-Gram includes Fairy Tutu with a stretchable waist to fit ages 1yr to 8yrs, Fairy Wings, Fairy Ribbon Wand, Fairy Halo, and 2 Butterfly Clips.  All your little girl needs to add to make her fairy experience complete is her energy and imagination!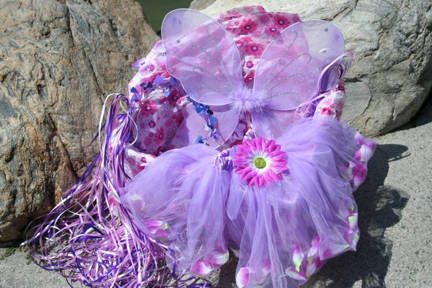 The woman behind Fairy-Gram is a stay-at-home mom who created Fairy-Grams out of the love her daughter had for dressing up, especially as fairies.  She says that Fairy-Gram was founded "directly from the heart of a 5 year old little girl."  And you can tell because every single piece of the fairy outfit, right down to the ribbon wand, is something a little girl would love!
While the idea is something straight from a child, the quality of each piece is anything but childish!  The Fairy Wings and the Fairy Tutu are both lined with with satin, making them so comfortable for even your littlest girl to wear (and putting my homemade tutu to shame)!  My two-year old wore the wings and tutu for hours in nothing put her pull-up and it never once irritated her skin.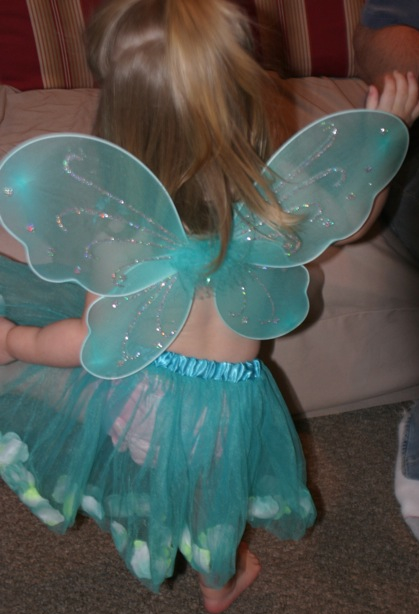 Fairy-Grams are available in hot pink, lavender, lemon, pink, white, rainbow, and turquoise and cost $29.95.  I would definitely recommend sending a Fairy-Gram to the little lady in your life…the look on their face as they open the box will be priceless!  Remember, Easter is only a few weeks away and this would be a magnificent gift for those Easter baskets!
GIVEAWAY
I am so excited to be giving away one Fairy-Gram to one lucky reader here!  And you even get to take credit for it when your little girl opens the box and tells you are the bestest, greatest, most super wonderful person in the whole wide world!!!
To Enter:
Mandatory Entry – Visit Fairy-Gram.com and tell me which color you would choose if you won.  You must do this to enter.  All entries below are extra and optional.
1 entry – Become a fan of Fairy-Gram on Facebook.

1 entry – Follow Fairy-Gram on Twitter.

1 entry – Subscribe to Stacey Says… via RSS.

1 entry – Subscribe to the Stacey Says… Email newsletter (link on the side)
(make sure you confirm your subscription by clicking on the link sent to you in your email)

1 entry – Follow me (@Stacey_Says) on Twitter and tweet about this contest (you can do this every day and receive one entry each day!).

5 entries – Blog about this contest and leave me a link to your post.

5 entries – Not a blogger? Send an email to 5 of your friends with a link to this contest. Make sure you CC me (staceysays (at) me (dot) com) on that email and then leave a comment here saying that you did so.
The Details:
The One (1) winner will be randomly selected from the comments posted by Friday, March 19. All entries will be verified and must include an email address where I can contact you if you should win. This contest is open to US shipping addresses. You can read more about Giveaway Policies here.
*Disclaimer: This review was made possible by MomMadeThat.com.  I did receive a complimentary Fairy-Gram from Fairy-Gram.com so that I could provide you with an accurate review of this product. However, receiving the complimentary product in no way affects my opinions stated here.