Remember when I said that I loved Easter?  Honestly, it takes everything within me not to buy Easter candy every single time I go to the store!  Well, I am so excited that my love for all things Easter has led me to a way that I can give back this year!!!
This Easter, Hershey's is partnering with bloggers to donate $5000 to the Children's Miracle Network!  I will give you a little history here, I've always been a big supporter of CMN.  In college I participated in and organized a fund raiser (Dance Marathon) to raise money for our local CMN.  It is a fabulous organization helping children's hospitals around the country.  So, YAY for Hershey's continued support of CMN!
Here is what Hershey's is doing:  Hershey is hosting a blog hop this Easter season and, for each blog that participates, Hershey's will donate $10 to CMN. How can you help?  Easy! Spread the word about the blog hop through writing a blog post (including the rules below) and passing on virtual Easter baskets to your friends, encouraging them to participate!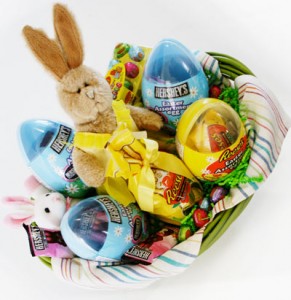 Here is who I am sending my virtual baskets to:
If you read this and would like to join in the fun please let me know!  I'd love to add you to the list!  Really, it's as simple as just writing a post!
Here is the info to include in your blog post:
Hershey's Better Basket Blog Hop Rules

1.  Copy and paste these rules to your blog post.
2.  Create a blog post giving a virtual Easter Basket to another blogger — you can give as many Virtual Baskets as you want!
3.  Link back to the person who gave you an Easter Basket.
4.  Let each person you are giving a Virtual Basket know you have given them a Basket.
5.  Leave your link at BetterBasket.info/BlogHop in the comment section.  You can also find the official rules of this #betterbasket blog hop and more information about Better Basket with Hershey's there.
6.  Hershey's is donating $10 per blog participating in the Better Basket Blog Hop to Children's Miracle Network (up to a total of $5000 by blog posts written by April 4, 2010).
7.  Please note that only one blog post per blog url will count towards the donation.
Thanks so much to Courtney at DetroitMommies.com for sharing this opportunity with me!  I hope you'll take a few minutes to participate in this blog hop and support Children's Miracle Network!
And, if you saw my Easter basket goodies list, I think I'm leaning more and more toward the super hero capes!