The last time I laid on one of those beds it was 1998, nearly 12 years ago.  Really?  Had it been that long?  How could I have let so much time go by?  Sure, there have been trips out of the country, tattoos, ear piercings, and pregnancies, but 12 YEARS? Well, today, I had no excuses.  No recent international trips, tattoos, pregnancies.  Today, I could donate blood.
I had little over 45 minutes today before I needed to be back home to let the babysitter go and I knew that the church just down the road was hosting a blood drive.  I figured I would just stop by and check t0 see if they could even get me in and finished before I needed to be home.  They said they would try.  Ok!
They entered my updated info into the computer and then asked the question I had dreaded: "have you ever failed the iron test?"  The answer was an honest "no" but, in the back of my mind, I knew my iron levels are consistently low.  The nurse poked my finger, took a little blood and put it in the little tester machine.  I needed a minimum hemoglobin level of 12.5 g/dL.  Mine was 11.4.  I had two options: leave and try again next time or have a different nurse do a retest.  Retest it is!  Moving on to my left hand, after a much more painful poke, my hemoglobin retest came back at 12.9!  Yay!
I took my place on the very uncomfortable table in the middle of the room, the nurse asked my name about twenty times (I guess to make sure I wasn't pretending to be someone else), and then we were off and draining.  The nurse was pleasantly surprised at how quickly my blood was draining out (I'm apparently a fast bleeder) and I was, umm, surprised at the choice of music they were playing.  I'm lying in a church, donating blood, and they are playing "Mmm Mmm Mmm Mmm" by Crash Test Dummies.  You know the song — Once, there was this girl who wouldn't change her clothes with the girls in the change room." It was weird!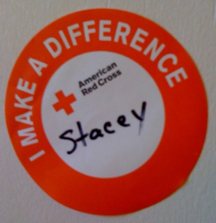 Anyhow, I finished donating, sucked down a small can of orange juice, and got home in time to let the babysitter go.  And it felt so good!  I loved knowing that I did something that could potentially help another person.  Not someone that I actually knew but someone.  And it was so easy.  Forty-five minutes, a few yes or no questions, and some needle pricks, that was all it took.
I will definitely be donating again. I have the blood.  I'm healthy.  I will continue to donate blood as long as I can.  What I'm really hoping to do now is to get tested to donate bone marrow (It's on my Life List)!
Have you ever donated blood (or been tested to donate bone marrow)?  If not, what is holding you back from donating?  Don't worry, I'm not judging you for not being a donator!  I'm just curious.  I totally understand that there are people that can't donate and there are people that would rather eat dirt than be poked with a needle.  If you've never donated but are interested in doing so, here are some interesting facts:
1 pint of blood can save up to 3 lives
Every 2 seconds someone needs a blood transfusion
5 million patients in the US need blood every year
Less than 38% of the population is eligible to donate blood
Blood cannot be manufactured; it can only come from volunteer donators
You get juice and cookies after you donate!
You can learn more about donating blood and even find local blood drives at RedCrossBlood.org.
FYI…this post actually has nothing to do with the American Red Cross.  They did not contact me to write this post and have no idea that I am writing it.  I believe strongly in donating blood, if you can, and wanted to share this experience with you.  I am in no way being compensated by the American Red Cross for this post or by anyone else.