In October of last year I received news that an old college friend and sorority sister had given birth to her first child.  A son.  Olin.  Three months early.
I've spent the past 5 months following along on their journey through their blog, Facebook updates, and pictures.  Often heartbreaking, but always inspiring.  tubes. doctors. first bottles. more tubes. surgeries. hospital rooms. more doctors. going home!   Every update, every blog entry made me so thankful that Olin has a fighting spirit and so very thankful that both my girls were born healthy!
After 16 weeks of being in the Children's Hospital, Brad, Christine, and Olin are adjusting to life at home and loving it!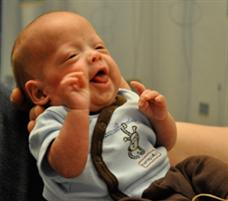 This Spring many cities across the country will be participating in The March of Dimes' March for Babies!  I am so excited to say that I will be walking…er, marching?  Either way, I am joining the efforts to raise money for this amazing organization in the name of Olin.

The March of Dimes raises money and awareness to help prevent prematurity, birth defects, low birthweight, and infant mortality.  By walking in the March for Babies, you give hope to the more than half a million babies born too soon each year!  You can learn more about the March for Babies by visiting them online!
I will be walking on April 17 and have committed to raising $250.  Will you help me?  I think $250 is a modest amount and I believe that we can blow that number out of the waters!  Will you help me?
You can help in two different ways:
1.  Walk with me! Join me in Holland on April 17 and walk.   Go here and click on the button that says "Walk With Me".  It will be fun, I promise!  You can all laugh as I trip over my own feet (I tend to be a bit clumsy) and maybe we can all grab breakfast afterwards!
2.  Donate! Just because you can't walk with me on April 17 doesn't mean you can support me!  Give me your money!  Ok, not me, but March of Dimes!  To donate, just click go here and click on "Donate Now!"  You can always click on the badge on the right, too!  Spread the word to your friends.  Again, I'd love to blow my $250 goal out of the water!!!
Now, I should go dust off my running shoes or locate my running shoes or something!  Because I'm WALKING FOR OLIN!!!