I just saw a short clip of what Jeff Bridges said backstage at the Oscars after being honored as Best Actor in a Leading Role for his portrayal of Bad Blake in Crazy Hearts.  And it has become my favorite Oscars Moment!
Yes, I did love what Sandra Bullock said in her Best Actress acceptance speech.  I loved that she thanked moms.  Yes, moms.  The unsung heros.  Loved it.  Teared up over it.
But what Jeff Bridges said seemed to resonate with me a little more, or on a different level.  Here is what he said in that backstage interview:
In regards to his wife, whom he contributes his success, "She holds that kite string. Let's me go way out there, and then it's so sweet being reeled back in.  I love coming home…But my wife and my girls, I guess the girls are the tail of the kite, keep me centered like that."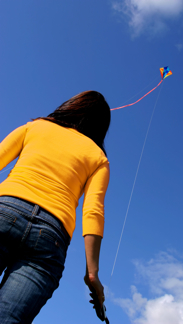 I want to be that.  I want to be holding the kite string for my husband.  Not that I want to be holding my husband back but that I can let him drift amongst the clouds and just be there , keeping him connected to home.  He loves to dream.  He loves to think about what else we could be doing, in business and in life.  He's not content just settling.  But he also has a strong sense of doing what is best for us, for me, for our girls.  I'd like to think that that is where I and the girls come into play.  That I'm there, keeping him anchored to the ground (in a sense) and, when he's ready, reeling him in back home.  That, when he is floating around way out there, that it is our girls who keep him centered.
I just love that thought.  The image it brings to mind.  It is such a breath of fresh air to hear someone compare their relationship with their spouse and kids as something more positive, instead of the whole "ball & chain" analogy.  I hope this is the way that my husband looks at our relationship.  That he sees us as this magnificent kite flying team.
Photo courtesy of haloocyn on Stock.xchng.