I wasn't sure exactly how the girls would react seeing their favorite characters in person as we got ready to go to the Playhouse Disney Live show.  It's one thing to see them on the tv in the living room as cartoons.  It's quite another to see them "live" and in person, dancing and singing on stage!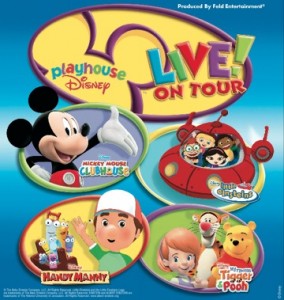 The girls loved it though!  Zoe LOVED seeing Mickey Mouse and Abbi loved joining in on all of the dancing.  Abbi was a little concerned when Goofy's hat fell off during the show and even tried yelling to Goofy that he dropped his hat.  (I don't think Goofy meant to drop his hat)  Thankfully it was a loud part in the show!  Abbi was also questioning this morning, while we were watching Playhouse Disney, why Daisy and Pluto weren't at the show last night.  I told her they must have been sick and she bought that.  Note to Playhouse Disney Live:  Get a Daisy and Pluto in the show!
Overall, the girls had a blast!  The length of the show was great (although the intermission got to be a little long for the girls) and the story and music definitely kept the girls' attention.  The basis of the show is that Mickey is throwing a Music Party at the Clubhouse and is inviting some of his Disney Pals — Handy Manny, Tigger, Pooh & Darby, and the Little Einsteins, including Rocket.  Each friend is to bring a song to sing at the party. We get to watch (and help) as the Disney friends find, discover, and prepare their songs. Blast off with the Little Einsteins as they discover music around the world.  Hang out in SheetRock Hills with Manny and the Tools as they realize that the tools themselves make their owns special music.  And head over to Hundred Acre Woods to find the musical inspirations the woods themselves hold.  Wrap it all up with the famous Hot Dog Dance and you have one rockin' show!!!
I'm so thankful to Feld Entertainment for giving my family this opportunity and for providing two other families tickets as well through the giveaway.  I cannot wait to take the girls to more live shows in the future!!!  And thank you to the Disney Live events for providing such amazing and fun events where families can make great memories!