This past weekend we had the opportunity to see another live Disney performance in Grand Rapids.  Thanks to Feld Entertainment we got to see Disney On Ice: Finding Nemo!  And it was fabulous!
As I mentioned before, I have great memories of seeing Disney On Ice when I was young and was so excited to take my girls.  Everything about the show was amazing.  Minutes before the show they announced that the show would be starting soon with a little audio comedy bit from Marlin and Dory.  It was a great way to get read for the show!

The show itself starts off with Mickey, Minnie, Donald, and Goofy "gracing" the ice and prepping us for the underwater adventure that was to come.  My girls were so excited to see their Mickey friends on the ice!  And, apparently, Zoe has become a little fond of Goofy!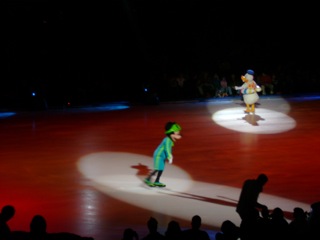 The show did a great job of interpreting the movie and hit all the major points of the film: Nemo getting captured, sharks, jellyfish, sea turtles, whales, the escape, and the reunion (sorry for the  spoilers if you've never seen the movie).  I was surprised at how much they could fit in and the ways they could make each scene come to life on the ice.  The props, the costumes, the lighting, the music — all awesome!  But I was most impressed with the skaters themselves!  It's one thing to ice skate and dance and twirl on skates…it's quite another to do that while dressed like a starfish, a sea turtle, or an entire school of fish!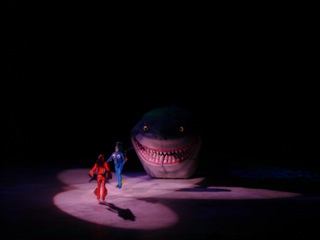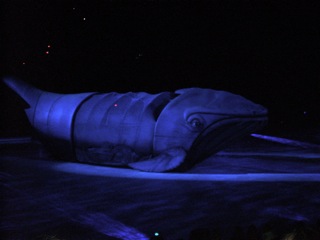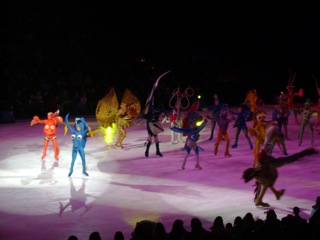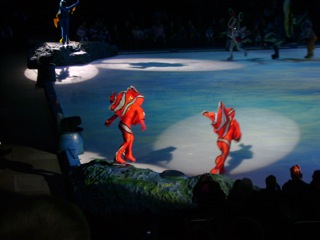 The show captivated my girls and loved every minute!  I cannot wait to take them to another show!!!  You can see if a Disney On Ice show is coming to your area by visiting Disney.com/DisneyOnIce.  And, if you're in the West Michigan area, you can check out other great live events coming our way by visiting Feld Entertainment!